In the Hangout made by .CO Internet SAS –part of GoDaddy Registry, and responsible for the promotion and operation of the .CO domain– and Impacto TICis opened a space to provide knowledge to entrepreneurs and MSMEs in Colombia around the good practices that must be followed when choosing a name and choosing a domain on the Internet.
What should they know entrepreneurs and MSMEs when choosing a name and choosing a domain on the Internet? How important is it? What must be considered? How much impact does it generate in the positioning of businesses in digital scenarios? What are the main tips and recommendations from the experts to get the process right?
To answer these questions, Eduardo Santoyo, general manager of .CO Internet GoDaddy Registry and William fox, Marketing Associate Manager at .CO Internet, revealed the aspects and characteristics that must be taken into account to choose the right name and domain.
"This is a guide to introduce some topics about domain names that deserve discussion and deserve analysis to determine our validation process on the web".

SIGNS EDUARDO SANTOYO.
These are the most relevant aspects that must be taken into account when choosing the name of a web page:
What is a domain?
Un internet domain It is the unique and unrepeatable name that each website receives. That is, the website is the house and the domain is the postal address.
"Before there were 3 generics: .COM, .ORG and .NET, but then the new TLDS (generic Top-Level Domains) arrived, which have a larger number of characters and broaden the spectrum of possibilities. They are the same as all the others in the sense that they essentially serve us to convey to someone what our space or location is on the Internet", clarifies Eduardo Santoyo.
In recent years, many new generic domains have appeared that broaden the spectrum of possibilities. Some examples are:. xyz, .online, .app, .vip, .club, .space.
While Geographical domains originated to reference the location of a website in a specific territory or country. They consist of two letters associated with the country of origin, for example: .co is the extension for Colombia, .mx (Mexico), .us (United States), etc.
Where to start and what makes me different from having a domain?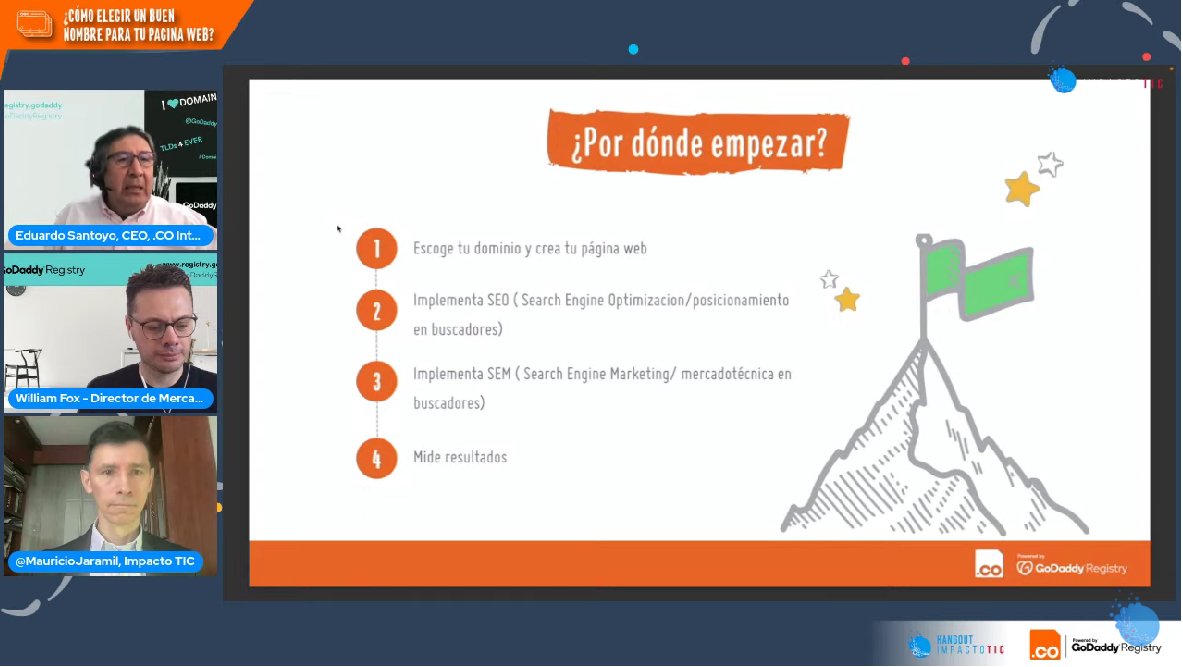 Before choosing a name, it is necessary to know why it is important for the business to have a presence on the web. After the pandemic and with the increase in Internet connection, it became more important to have a presence in a place where everything comes together and everyone interacts.
Although social networks have become a useful tool, for businessmen and entrepreneurs they are not enough when it comes to growing on the web and having a presence in other areas of the country or the world.
Eduardo Santoyo advises that in addition to looking for a name, you should measure results, it is key to go to SEO and SEM to know the scope of the website and the interests of users by age or region.
"Where do people look for businesses or companies about their services, products or goods? They look for them on the Internet, so it is important to be there. Having a space on the Internet is cheaper than having a store. Social networks are important but they are not enough"says Eduardo Santoyo.
Brand or keyword?
It is important not to stay with a single name, that's why it is suggested to find a keyword that helps people to identify the brand. Hence, you can choose between growing your brand on the Internet or using keywords that give you more reach.
With the brand domain, the advantage is that the name can grow on the Internet. While keyword domain allows you to rank better in search engines and can easily denote business activity.
If domain recognition grows, it will sound like a true brand and not just a keyword or keyword phrase.
"The most important thing is that we have something distinctive, unique, that generates in third parties that perception that they know who the brand is, they sense it and it is easy for them to remember",

SIGNS EDUARDO SANTOYO.
For that, It is important not to use complex words or difficult to pronounce or use the eñe, the hyphens, numbers or repeat letters, since this does not help to have remembrance and good positioning.
"It is recurring that the ventures when looking for the name of their brand take into account the scope that is wanted. Startups often want to enter other markets, other countries, so they It is important that when you think of a name it is fully understandable in those places, without pronunciation problems, that it has another meaning, and that it is scalable in the markets that you want to reach", says William Fox, Marketing Associate Manager .CO Internet
Beware of identity and reputation
"There may be people who register domains to try to steal the identity"In this regard, Eduardo Santoyo emphasizes the importance of reviewing other domains that seek to damage the reputation of the brand on the Internet.
In this sense, there are 3 threats against which we must protect our website:
typosquatting – Register domains that could be confused when written with yours: facebool.com, linkedim.com, etc.
soundsquatting– Register domains that sound like yours: facebuk.com, tuiter.com.
brandjacking (misuse of your brand)
If you missed this Hangout, relive the highlights here: