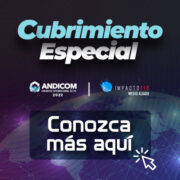 Currently almost half of the companies are considering tackling Artificial Intelligence projects, since this technology is not something of the future but rather part of a necessity. Right now 1 in 4 companies is implementing it.
IBM is a world leader in the creation and adaptation of these technologies. For many years they have been the pioneers in the implementation and accompaniment not only of Artificial Intelligence models but of everything related to the hybrid world.
Within the framework of ANDICOM 2022, Juan Sebastián Estévez, technology manager of IBM Colombia, was in the media center of Impacto TIC, talking about the benefits that the company has in Artificial Intelligence, hybrid world and Cloud.
"Artificial Intelligence projects are projects that require a cultural change within the organization. It is to go from people taking results alone to now taking results assisted by a tool. It is not that it replaces people, but it does help them make better decisions.", points out Juan Sebastián, about the experience that IBM has had with the implementation of this technology.
It also highlights the importance of being clear about the ethical framework of Artificial Intelligence, and the existing models that fit each company, as well as the biases that Artificial Intelligence represents.
"Like any technology, Artificial Intelligence and data generate changes in the way we work and ultimately make us more efficient. IBM believes that Artificial Intelligence comes to assist the professions, not replace them"
IBM has made use of Artificial Intelligence to improve its software products as a differentiator, with pillars such as data, security and automation.
We invite you to watch the full interview during the coverage of ANDICOM 2022