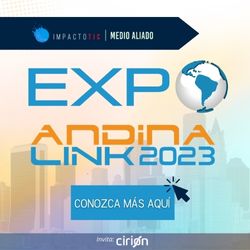 Can you imagine easily setting up a mobile virtual operator (MVNOt) specially designed to offer services for the Internet of Things? This idea has already occurred to Alai Secure. An interview with Carlos ValencianoGeneral manager Alai Secure-Mobile Sum.
For years the Internet of Things has ceased to be the future, it is a growing business that will move more than 650 billion dollars by 2026, ranging from large cities to remote regions.
But despite the numbers and expansion into multiple market verticals, there is a common drawback: Being an IoT service operator is not easy, it requires having a solid telecommunications infrastructure and an operations center that manages this network efficiently and securely.
Alai Secure seeks to offer a response to this concern based on its experience of more than 17 years in the Spanish market. Some background that brought them to Andean Link 2023, in Cartagena.
"We offered communications services to the IoT environment even before the IoT existed", says Carlos Valenciano, recalling that his company offered M2M (machine to machine) services for 17 years.
Born from safety
Alai Secure can pride itself on another feature that has become an added value: security. "To give you an idea, andn Spain, there are some 152 monitoring centers of all sizes, 148 of them work with us" says Valenciano.
In addition to this leadership in the market for connected alarms and video cameras, Alai Secure also boasts a majority stake in telecare services.
"In Spain there are 1 million older adults who live alone and live connected to a home care service company. Approximately 40% of them are on our platform".
But beyond the figures and market shares, this background served to instill a sense of urgency from the very beginnings of this Spanish company. A DNA that comes to bring the Colombian market, especially the regional Internet access companies (ISP).
6 to 8 weeks
Also, and thanks to the transversality of technology, Alai Secure has been able to deploy customized virtual mobile operators in the country in different market niches, ranging from controlling school routes to growing flowers.
"We are a specialized, niche mobile operator", Valenciano emphasizes frequently, while assuring how thanks to this experience they are able to implement a mobile operator in a period of 6 to 8 weeks.
"Currently it takes us 6 weeks to deploy the personalization platform and 8 weeks to manufacture the SIM Card with your brand" adds the manager.
Below is the interview with Carlos Valenciano, general manager of Alai Secure-Suma Móvil: