At this advanced point in the global pandemic, it sounds trite to talk about the advantages that technology has brought to different sectors of society. Beyond this, The pandemic completely exposed many needs that large companies and SMEs were to some extent omitting from the equation. The accelerated digitization of the pandemic represented a big challenge for everyone, but especially for SMEs.
After all, while a large company may have more diverse income, for SMEs the right flow of customers can mean the difference between staying afloat or bankruptcy. Among all the needs, those related to technology have become for many SMEs the lifeline that has kept them afloat in this time of pandemic.
Due to this, it is important to understand what kind of technological needs SMEs have in the country and what tools can be used to implement them correctly. As with many aspects of Digital Transformation, the discussion begins as a social issue and it must first focus on being a change more in business culture than pure technology.
Digital literacy first
The SME market is perhaps one of the most important in the entire region. In Colombia, for example, SMEs represent 35% of GDP and contribute 80% of employment in the country, with figures that vary up or down depending on the source. Fernando Sotelo, Director of Customer Service and Strategic Alliances for Zoho Latam, says that in the region the vast majority of companies are SMEs with less than 200 employees, and very few companies are really big.
The case of Zoho is interesting, since in addition to its focus on SMEs in the region, the fact that they have more than 100 applications integrated is undoubtedly intimidating for any company that is just taking its first steps. According to Sotelo, one of the most important points is simplicity in matters of technology. "Many of these companies do not have technical knowledge. So the simpler we make it, the faster for them and that helps a better adoption of the tools ", Explica.
For SMEs, which in many cases have simple business systems, technology must also accompany this simplicity in order to enhance the strengths that already exist. For any company that is thinking of taking the first step towards digitization, it is important to assess with a cool head and with the help of consultants which elements of the process chain can be digitized and optimized, which are a priority and which are not.
In addition to this, in the period of the pandemic, SMEs took the opportunity to modernize. "Something that has been extremely interesting has to do with the atypical behavior of the pandemic that 2020 brought, and that is what we saw post-pandemic is that it is precisely those SMEs that decided to take a step towards the digitization of processes ", stated Felipe Behar, Vice President of Sales and General Manager Latam for Zebra Technologies. Zebra is a company that focuses especially on solutions software and hardware for businesses of all sizes.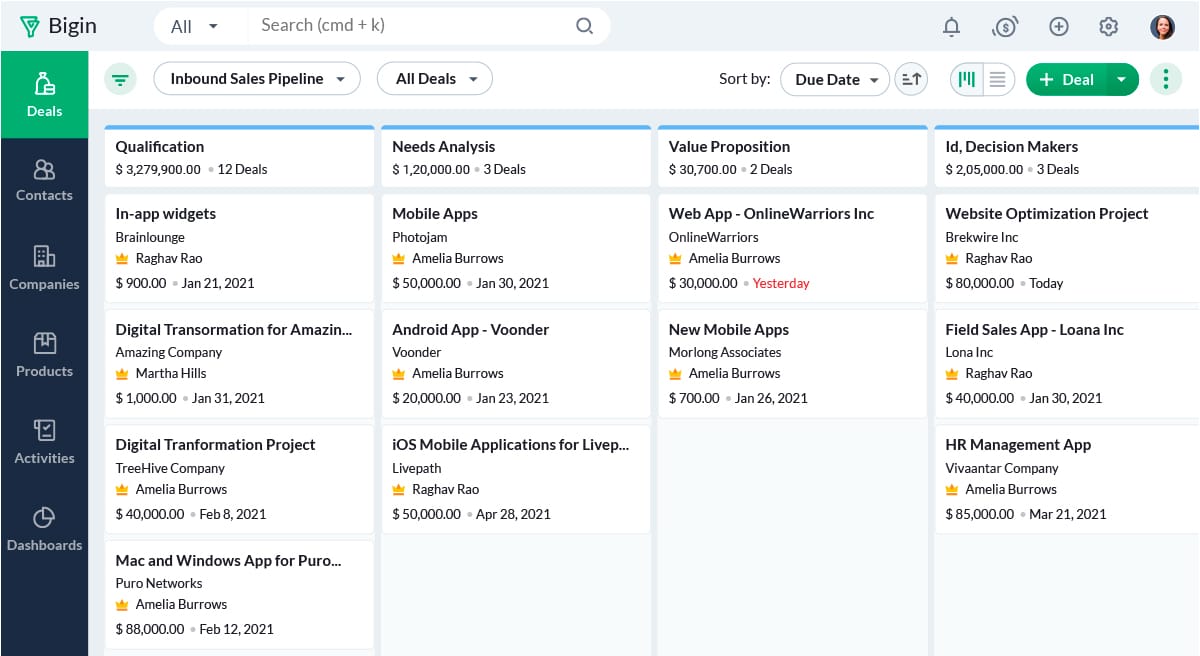 This is what a CRM focused on the process line looks like. Image: Zoho
However, although progress has been made, ideas such as that the implementation of the technology is necessarily expensive, or that there is no need to change it, also come to the fore here. The truth is that a good technological implementation means a more robust and prepared company, not only in the face of market adversities but also in the face of customer habits.
Where to start?
Despite the fact that today more than ever SMEs are making the leap towards digital environments, sometimes the path can seem quite confusing. After all, there are many companies, tools and systems that make the path easier for companies, but also make it more difficult to make a decision.
For Sotelo, SMEs in the region must first focus on creating an online presence. This refers not only to having a website that is updated regularly, but also to turning to social networks and platforms such as YouTube or TikTok in order to further expand your customer base.
"One of your needs first of all is to have your website. Before, many did not have their website because it was in the neighborhood and they were getting to know them little by little through friends. But today, and especially when we were locked up, one of the needs is to have a web page and have a chat ".
Fernando Sotelo, Director of Customer Service and Strategic Alliances for Zoho Latam
In general, for many companies it is difficult to control the flow of customers and sometimes also to be able to offer personalized attention. The implementation of a chatbot means that users will be able to have answers more quickly and in an automated way, without having to invest in talent and time dedicated to this.
On the other hand, many SMEs can also invest in automating internal and external processes for clients. "Mainly, there are many challenges facing the management of the processes. One of the most important processes when going digital is, for example, handling returns. There, reverse logistics is as important for a business as the same management that you have for orders "says Felipe Behar of Zebra.
Generally speaking, an SME can initially focus on issues such as CRM implementation -customer relationship management–, have a website with good SEO, be active in social networks and create a good relationship with customers through chatbots and timely attention to doubts, questions and suggestions.
The first step is the most important
With these fundamental pillars, a much more robust business base will be created, which can move in digital and physical environments without losing sight of its market core. At this point, it is important to emphasize that many companies that offer these services also give advice to companies that are taking their first steps. or those that aim for ever higher goals and need an adequate technological infrastructure.
On the Zoho side it is worth mentioning that its CRM, Zoho Bigin, It can be implemented for free and simply, something that Sotelo emphasizes is essential for SMEs to begin to soak up this type of systems without initial costs. Zebra, meanwhile, facilitates logistics, personnel and internal processes issues that can also be implemented with solutions based on analytics and Artificial Intelligence.
Regardless of which solution is chosen, the important thing is that SMEs - old and new - consider technological solutions to make the path of entrepreneurship more enjoyable and manageable. SMEs represent an important link in the Colombian and regional economies, and technology has all the potential to make them stronger in what were previously their weakest points.
Main Image: Photo by Priscilla du preez on Unsplash