Since 1975, the United Nations Assembly has recognized March 8 as the date on which International Women's Day is commemorated. In 2023, the UN established as its motto 'For an inclusive digital world: Innovation and technology for gender equality'.
This year matches the theme of the 67 Commission on the Status of Women (CSW67 (2023): 'Innovation and technological change, and education in the digital age to achieve gender equality and the empowerment of all women and girls', which is held from March 6 to 17.
To commemorate this day, the effects of the digital gender gap in the growth of social and economic inequalities.
"All over the world, girls and women make up only a third of science, technology, engineering and mathematics students. In the tech sector, men outnumber women by a ratio of two to one. In Artificial Intelligence, only one in five workers is a woman", stated the Secretary General of the United Nations, Antonio Guterrez at the installation of CSW67 2023.
International Women's Day seeks to analyze the importance of protecting the rights of women and girls in digital spaces and addressing gender violence online due to new communication technologies.
Inequalities and technological gaps
The Internet and technology in general have opened up new opportunities and spaces for participation for women. However, this has also become a place to perpetuate existing dynamics of gender inequality and bias.
Currently, inequalities in digital skills are evident between men and women, such as low access to technologies. To this is added the risks that women suffer from all kinds of online violence.
According to the UN, women are 25% less likely to have digital skills needed to take advantage of technology. Hence the importance of an equality-based approach to STEM education.
"Women are 18% less likely than men to own a smartphone, and less to access or use the Internet. Just last year, 259 million more men than women connected to the Internet., explained Sima Bahous, Executive Director of UN Women during the installation of CSW67 2023.
And added that "only 28% of engineering graduates and 22% of Artificial Intelligence workers globally are women".
A global report of 133 Artificial Intelligence systems revealed that 43% reproduce sexist prejudices.
Online and offline gender violence
In the last 5 years, the voices of feminists, women human rights defenders and journalists from Latin America and the Caribbean have been gaining space in the digital territory and on social networks.
But at the same time, gender violence has increased such as cyberbullying, identity theft, smear, defamation, xenophobic, racist and sexist comments, among others.
This is what the latest report saysOnline gender violence against women with a public voice. Impact on freedom of expression', who agrees that these spaces for participation are accompanied by violence that in most cases go beyond virtuality.
Women journalists and human rights defenders are the target of threats and violence against their freedom of expression.
In the case of Latin America and the Caribbean, the growth of this violence is due to the so-called fourth wave feminism, which has opened the conversation on issues such as the debate on the decriminalization and legalization of abortion, legislative policies and greater representation of women in policy.
"Trolls to target specific women, bots to quickly viralize a hashtag, dissemination of personal data or publication of fake news are some of the visible strategies that are used in social networks to damage the reputation of a person, frightened and chase them away from the debate"says the report.
But in practice, little is being done to safeguard these women, whether in digital or physical environments. Therefore, the study suggests that this problem be addressed comprehensively and with the participation of different actors.
"One of the findings of this study is that security measures and digital care, in general, are taken when the damage has already been caused", concludes the report.
8M: There is not much to celebrate
Every year those 130 women workers at the Cotton textile factory in New York (United States) are remembered., who in 1908 declared a strike to demand a salary equal to that of men and less working hours. A fact that ended with the death of 123 women and 23 men.
From there it became a milestone in the struggle of women worldwide to demand more space in society and demand equal rights against men. Since 1909 thousands of women from Russia, Germany, Switzerland, the United Kingdom and Austria began to take to the streets to demand greater participation.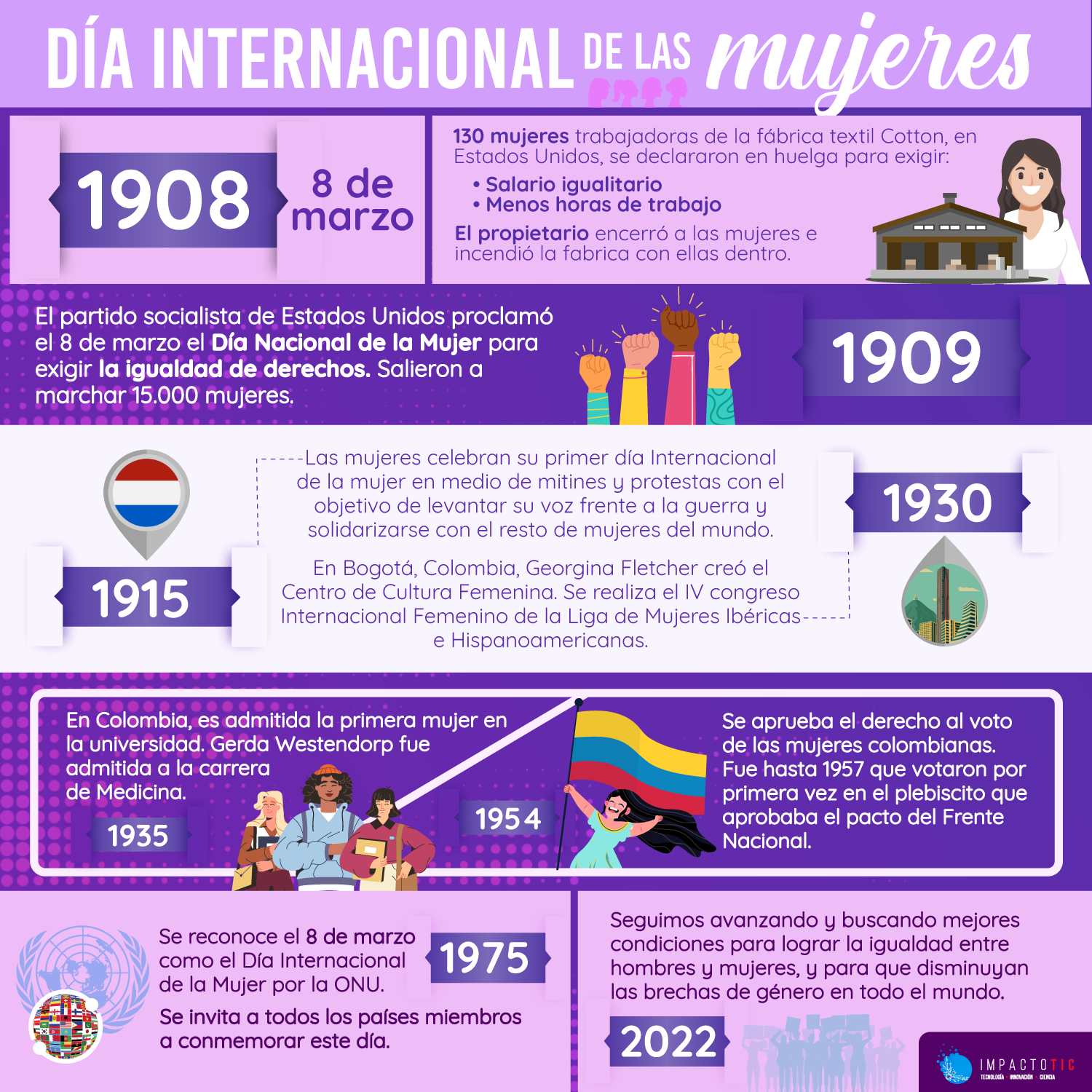 It was in 1915, in The Hague, that the first International Congress of Women was held, in which more than 1.300 of them participated, from 12 countries of the world.
Since then, progress has been made on economic, political, social and cultural issues. But this date always remembers that there is not much that can be celebrated and what should be discussed and improved.
Despite the progress of recent years, the figures show that much remains to be done. According to him Global Gender Gap Report 2021, of the World Economic Forum, women will have to wait another generation to achieve gender parity.
Iceland remains the most gender equal country in the world. Western Europe is the region that had made the most progress towards gender parity, with 77,5%, followed closely by North America with 76,4%. Latin America and the Caribbean registers 72,1%. In this index, Colombia is ranked 15th at the regional level and 29th at the global level.
Colombia, the gap remains marked
According to the report Women and Men: Gender Gaps in Colombia, there is still much to advance in economic, labor, educational gaps and in other areas in the country.
The labor market participation gap between men and women is 20,8%. While the unemployment rate for women (22,9%) is higher than that for men (13,8%), particularly among young people between 18 and 24 years old.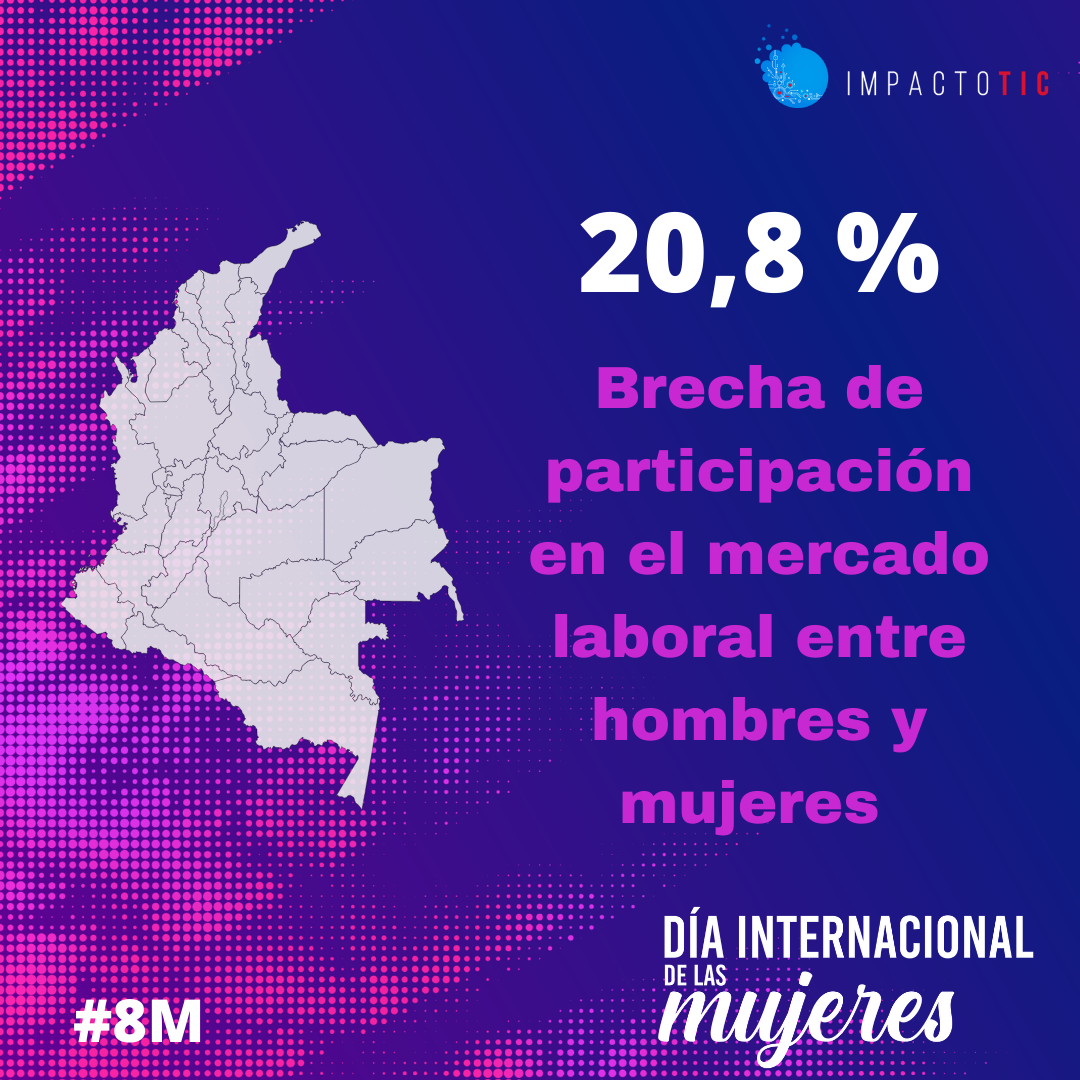 El 33,6% of men vs. 16,4% women represent the income gap in populated centers and dispersed rural. 31,7% of women participate mainly in community, social and personal service activities, such as the education and health sectors, compared to 11,7% of men. 33,4% of them are concentrated in commerce, hotels and restaurants, with a difference of 10,6% compared to men.
According to UN Women, More than 70% of women have suffered gender-based violence in crisis contexts and in the pandemic, 50% were victims and witnesses of violence.
En Impacto TIC The role of women in society has always been highlighted, there are many who should be named for their work and effort, for contributing to increasingly closing the gender gaps in Colombia and the region. The commemoration does not stay only in one day.
The journalistic team will be developing a women's special en Technology, Innovation y Science throughout the month of March... and throughout the year.
---
Main Image: ImpactoTIC