In an age where digitization has been accelerated in many ways and online commerce and data becomes more relevant than ever, it is important for businesses to stay abreast of these developments. Although before it was seen as an advantage, today this type of technology has become a necessity not only to stay afloat, but also to attract new customers.
Zoho, a company with origin in India, announced this week the arrival of its new Business Intelligence platform to Colombia and the region in general. Let's remember that Zoho has been creating solutions for business for 25 years, offering corporate packages with services like Zoho One that empower the digital revolution of companies. Currently the company is in more than 180 countries and has more than 60 million users globally.
Zoho Business Intelligence's main goal is to complete the point-to-point portfolio of companies. Since data has become one of the most precious assets of companies, the use of analytics and artificial intelligence create value from this data and offer better insights for decision making.
The 3 Pillars of Zoho Business Intelligence
With this goal in mind, Zoho has complemented its offering by creating Business Intelligence, a platform that integrates all the benefits of analytics and Big Data, but also offers better integration and visualization. Although there is a lot of talk about data acquisition and analysis, one area of ​​which little is said is how to make this data truly understandable for businesses.
The first important pillar is that of data management. Through Zoho DataPrep - an Artificial Intelligence and Machine Learning application - customers are able to acquire data from various sources. These data are analyzed, cleaned, transformed and prepared to be able to do a better practical analysis with this data. "We lacked this step to have from start to finish a BI analysis tool that can give everything a client needs", says Fernando Sotelo, Director of Customer Success and Strategic Alliances for Latam at Zoho Corporation.
Following this, it is important to understand how to present this data. Here we can think, for example, of graphs with statistics, presentations and maps to visually present information that may otherwise become unintelligible. After all, the value of the data is not in the data, but what is done with them and how they are used to improve decision-making. At this point, Zoho has Zoho Sites and Zoho Show, which allow data to be created and viewed much more intuitively.
"We come to the visualization and analysis part. This is where we are giving the power to users so that they can understand this data, because before it was much more difficult and you had to do queries (searches), use SQL and code to be able to make tables and make sense of the information ".
Fernando Sotelo placeholder image
The third pillar of this platform is to be able to provide a better vision of the business and to be able to take the right actions. Advanced analytics components allow corporate users to have a prescriptive and predictive view of data. Here, in the same way, there is also the possibility of having better analytics and predictive business models that become the core of business initiatives.
More integration, better business
Although Zoho has more than 45 applications integrated and available to its users, one of its most important demands is the ability to integrate with other applications outside of the Zoho ecosystem. This is why Zoho developers and partners can now build analytics apps and publish them on the Zoho store. There, users will be able to find and purchase these applications.
According to Sotelo, this new feature already includes applications such as Jira, ServiceNow and Shopify, which have precisely registered the largest increase in users in Zoho. This unification of services means not only that the Zoho ecosystem becomes broader, but that its customers will have the applications they need to advance their business goals.
In the same way, it is easier to obtain value from data when all this information is integrated in the same platform. Thus, Zoho Business Intelligence integrates solutions for improved and augmented analytics. Zia is the name of Zoho's Artificial Intelligence assistant, which helps to better understand the data and present it more easily. This is done through simple conversations, questions, and answers.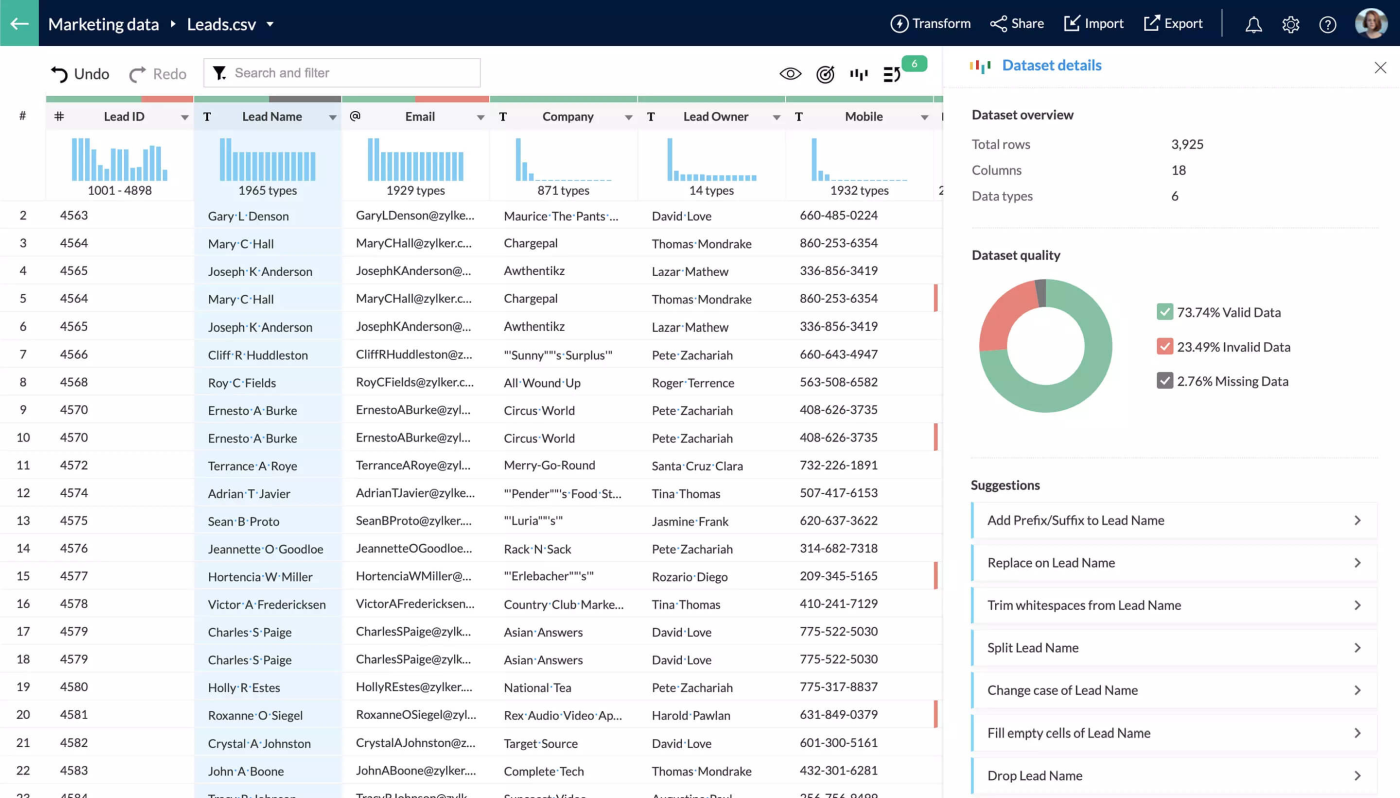 This is how Zoho DataPrep works. Image: Zoho
This model is also complemented by other services, such as the integration of cognitive analytics, which in turn also gives the possibility of having hypothetical analyzes and different forecasting models. All these tools are embedded within the platform, further empowering users.
A platform adjusted to the region
Zoho also announced that Zia can now also understand and speak Spanish, and even 'Spanglish' as ​​well. This means that users can now ask questions and engage in conversations with Zia using Spanish and without having to use English words. This is very good news for all businesses in Colombia and the region.
"It took a lot of work, [Zia] had classes in the morning, afternoon and evening to learn Spanish. We have been with it since last year in the Latam team and we have been working with the team directly in India to be able to improve and offer this to our clients", assured Fernando Sotelo. This ability, according to him, has not been seen on other platforms, which only have English versions.
Zoho's efforts to establish itself as a leader in the region come precisely at a time when digital is becoming a necessity. Beyond pure Digital Transformation, it is important that the region has technology enablers like Zoho. Thus, enablers and companies work together to make the future of the digital world a reality.
---
Lead Image: Zoho Corporation