When Satya Nadella took the reins of Microsoft in 2014, the conventional wisdom was that Microsoft's best days were behind us. Despite having a dominant position in technology for almost 2 decades, the purchase of Nokia finally led to a failure in the mobile world, while Windows lost relevance due to a Windows 8 that tried to reach the world of tablets and stay in it. of computers, but that it failed in both.
This losing streak extended to its other divisions as well. On the video game side, its Xbox One console - released in 2013 - had a lukewarm response to the resounding success of the PlayStation 4, while businesses like Bing's were marked by the uncertainty of a giant that was beginning to fall under its own weight.
Conventional thinking would say that Microsoft would lose more relevance over the years, but last June it became the second American company in history - the first was Apple. in surpassing $ 2 trillion in the stock market, and it's still going up.
Much of this recent success, curiously, has come from its video game division. On their 20th anniversary, Xbox and Microsoft remain the only US manufacturer of consoles and video games, a market that giants like Amazon, Facebook, Google and Apple have failed to enter.
Beyond Windows
The history of Microsoft in the field of video games is one that goes back just under 4 decades and that exists even before Xbox. In 1982 Microsoft launched Microsoft Flight Simulator 1.0 for IBM computers. As the years passed, Microsoft continued to release new versions that introduced features such as support for RGB controls, mice, and monitors.
In the same way, Microsoft also knew the market thanks to its role publishing titles such as Age of Empires for computers. During the 90s, the company was determined to massify Windows and its Office suite, and seeing an opportunity in the nascent world of computer games, it launched its collection of DirectX libraries in 1995.
By 1999, the video game market and consoles was heavily dominated by Sony with its PlayStation, Nintendo with its Nintendo 64 and Sega with the Sega Saturn. As the personal computer began to have its dedicated place in the home, Sony's vision with its PlayStation was that of a device designed for all types of entertainment. Bill Gates saw a rival there that could eventually replace Windows in homes.
In 1998 Microsoft decided internally that it would enter the video game console market, to go head-to-head with established Japanese brands like Sega, Nintendo, Sony, and Square Soft. The idea at first was to create a console that was based on Windows 2000 and that used DirectX libraries to facilitate the transition from Windows games to console. We still see these origins today, and the name Xbox was born from what was internally known as DirectX Box.
By 2001, when the first Xbox was launched, Microsoft fully entered an unfamiliar market while facing antitrust lawsuits from the US government. Although the idea of ​​using Windows as a base eventually fell due to technical problems, the original Xbox had a design that is more reminiscent of a conventional computer than a console. Its CPU was Intel, its graphics chip was Nvidia, and it had a hard drive of up to 10GB.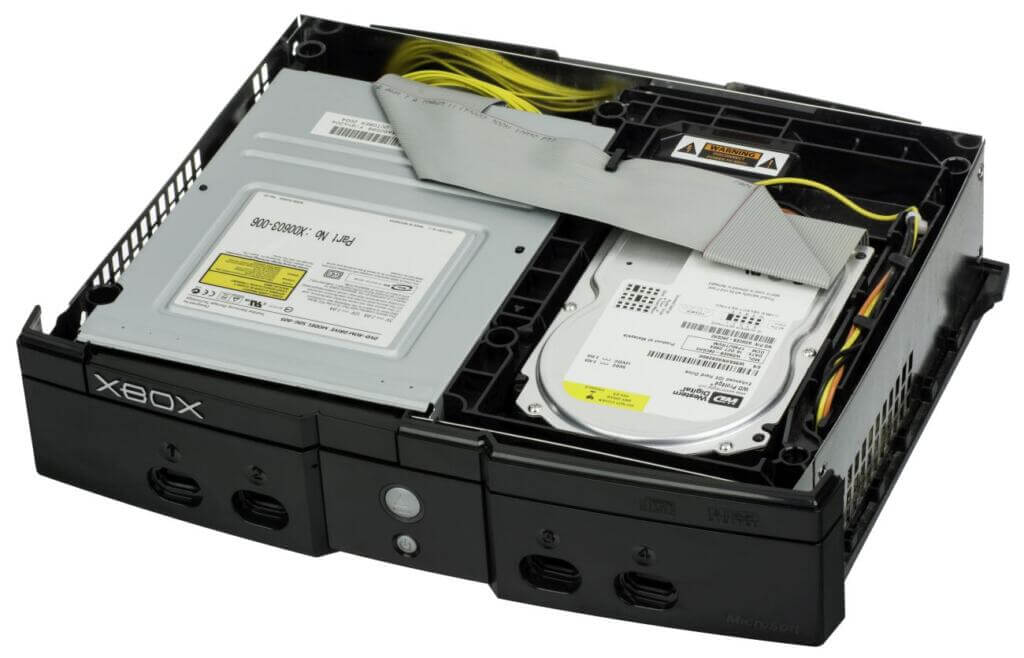 The Xbox promotion was marked by introductions like Bill Gates with Dwayne Johnson (The Rock). In many ways, Xbox represented the first time Microsoft ventured out of the mold imposed by Windows and Office. Today, the console market for Xbox represents annual earnings of about 13.000 million for Microsoft. "600 million people in the world play video games through consoles and around 3.000 million play on any type of device; this means that 45% of the world population is involved in one way or another with gaming "says Bernardo Camacho, Category Manager for the Xbox Latam Platform at Microsoft.
Videogames as a new frontier
One thing Microsoft was clear about was that the console market necessarily depended on video games. Sony had names like Final Fantasy, Gran Turismo, and Metal Gear; Nintendo, meanwhile, had Mario, Donkey Kong, and Zelda. Microsoft, on the other hand, had games for computers but none for consoles. However, during the Xbox development era a unique opportunity presented itself that would completely change the direction of Xbox.
Bungie, an independent studio, was facing financial problems and its CEO, Alex Seropian, was evaluating the possibility of the company being acquired. Alex and his team were working on their sci-fi computer shooter title, a game called Halo. Interestingly, Halo - the game that would establish Microsoft and Xbox as video game giants - was first shown to the public by Steve Jobs during Macworld 1999, running on a Macintosh.
Microsoft, using its economic capacity, completely jumped into the world of video games and acquired Bungie in 2000, with Halo: Combat Evolved. becoming the mainstay of the Xbox. Halo and Halo 2 were released with resounding commercial success, and they would become the model that all shooter games that followed were to follow.
"For Microsoft, the user is the one who has the last word, their behavior and needs make us constantly improve the experience they have with each of our solutions and platforms"explains Camacho. According to him, many of Microsoft's big decisions are made with the goal of offering innovation and new experiences in a market that today represents more profit than the music and film industries combined.
14 years later, with Microsoft struggling to stay relevant and after failures like Windows 8 and its mobile division, investors gave the new CEO - Satya Nadella - an ultimatum: sell or make Xbox independent. Nadella, however, together with Phil Spencer - current head of Xbox - decided to stay on the tightrope of video games.
Just as for Gates the acquisition of Bungie represented a new beginning for Microsoft, for Nadella and Spencer the acquisition of Zenimax - in November 2020 and for 7.500 million dollars - means a separate point. Zenimax manages some of the biggest developers in the industry, creating titles like The Elder Scrolls, Doom, Fallout, and Wolfenstein.
With this, Xbox wants to make a 180 degree turn compared to the last decade. His previous console, called Xbox One, sold about 50 million units globally, an important number but that pales in front of the 115 million of the PlayStation 4 and 80 million of the Nintendo Switch; even, compared to the 85 million units sold by the Xbox 360.
This point aside, however, has also marked a shift in focus for Microsoft and Xbox. Today more than ever, the tech giant has embraced the shift toward an open culture. "Microsoft was completely transformed. She went from being a developer of software and productivity-oriented solutions to a company totally in the cloud, whose pillars are gaming, modern life, modern work, business applications, infrastructure applications, Data and Artificial Intelligence ", says Abraham Martínez, director of Marketing and Operations of Microsoft Colombia.
Martínez also highlights the change that the company has had in the face of open source programs. Just 20 years ago its then CEO, Steve Ballmer, called Linux a "Cancer adhering to intellectual property". The picture is very different now, with the company being one of the biggest players in open source thanks to its acquisition of GitHub, where Microsoft has also released its code under open licenses. "We frame this milestone as the beginning of our transformation", he emphasizes.
The cloud and a new opening
Throughout its existence, Xbox has been many things. Today, however, the brand has the same approach as Microsoft: openness to the cloud. Although the new Xbox Series X and S have important advances at the graphic level, for the technological titan it seems that his concern is no longer in the pure hardware. It is precisely for this reason that the company has implemented services such as Xbox Cloud Gaming and Game Pass.
"Our strategy in the gaming industry has three pillars that are fundamental to achieve success. The first is Microsoft's technology structure in the cloud, we have a first-class infrastructure that allows us to be among the top 3 of the best in the industry in this regard "explains Camacho. The other two aspects are the community they have created and the third is the quality of the content.
For both Xbox and Microsoft, the real value is in the democratization that the cloud brought, somewhat freeing the user from the hardware to access remote services in real time. "The cloud is elastic: it allows generating extraordinary capacities during peak demand and reducing them the next day. It is the detonator of opportunities"says Abraham Martínez.
For Xbox, the important thing is no longer the box in which we play, but that we can play no matter where we are. Today we can have Windows and Xbox on an iPad, and for Microsoft it is important to maintain this openness towards new horizons so as not to repeat the mistakes of the past and close the opportunity to trends that may mark the future.
Interestingly, although it was born and continues to be one of the largest console brands, at 20 Xbox has ambitions that escape from that world and that in a certain way close a 2-decade console war to seek new horizons. "We want people to be able to play what they like, on the device they want and at the time they want –Said Camacho–. Today Xbox is not a console brand, It is a video game brand ".
---
Main Image: Billy freeman en Unsplash.