Meta conducted the first training in Augmented Reality in Colombia. With more than a thousand attendees, Meta Day 2023 was held at the Ágora de Bogotá, an event that is part of Meta's training program, and which seeks to bring Colombians closer to new technologies for their businesses.
The event was attended by Nohora Market, Vice Minister of Digital Transformation of the ICT Ministry and Carmen Caballero, president of ProColombia, as part of the alliance to promote Colombian entrepreneurs.
Success stories that promote the digitization of small and medium-sized businesses were also known. Initiatives like Wompi Bancolombia, Aroa and applications such as bees colombia from Bavaria.
In addition, in this first meeting the launch of Meta Spark, a free platform for Facebook and Instagram, easy to use for businesses, and in which Colombian entrepreneurs will be trained in Augmented Reality.
"Colombia is among the 5 countries in the region with the most creators in Meta Spark. This speaks of the great interest that there is in this technology that is opening new paths in different industries", he pointed Arantxa Guillen, Manager of Public Policy Programs in Meta for Latin America.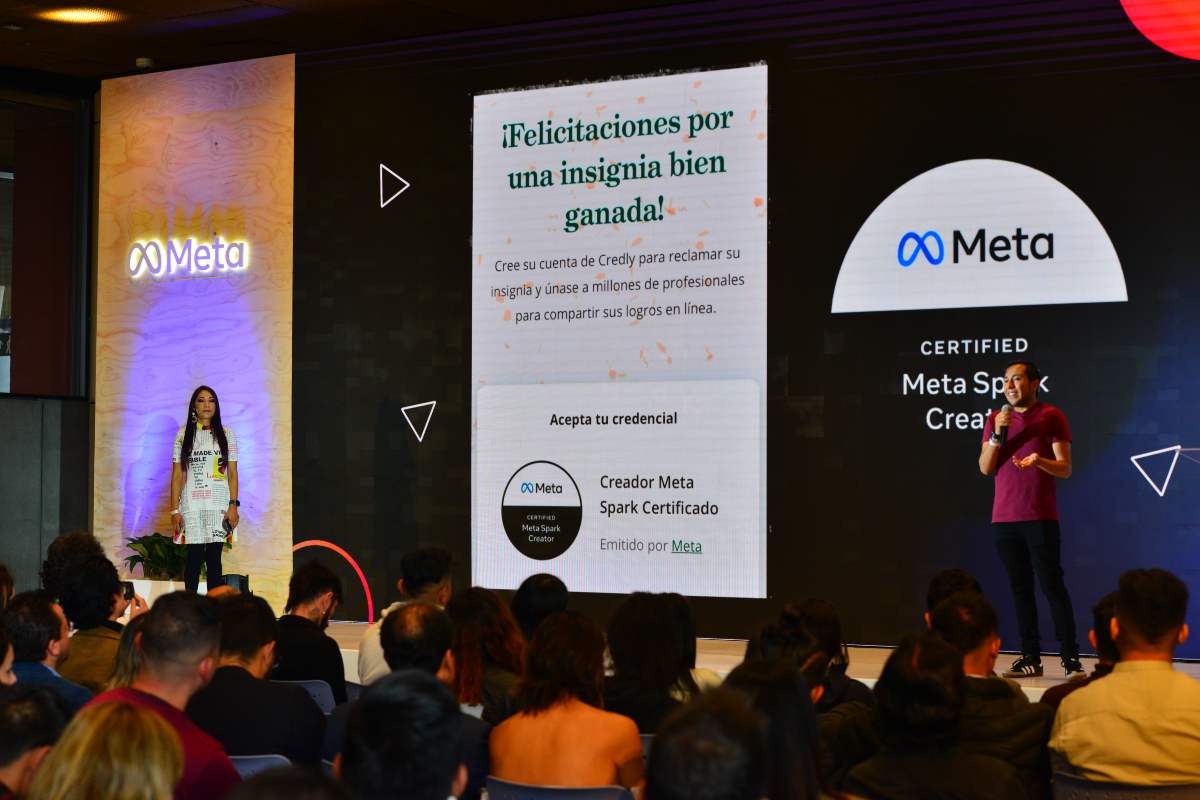 Meta – AtlanttiCO Alliance to learn more about Meta Spark
Taking into account the relevance of Colombia in the creation of content of this type, An alliance was achieved between Meta, civil society organizations, the National Government and the private sector.
atlantic, a virtual education platform, will train more than a thousand Colombians including students, MSMEs and anyone who wants to learn and be closer to Augmented Reality.
The courses will be free, some online and others in person in different regions of the country. Although the focus is the use of the tools of the Meta Spark, there will also be other workshops on related topics.
The modules that are part of the course are: Fundamentals of Augmented Reality Quick Starts and Pro. Those who pass the 3 courses can be certified to be the creator of Meta Spark
"The objective is that entrepreneurs, MSMEs, shopkeepers, businessmen, business owners, and whatever they want and have that desire for training so that they see how easy it is through the Meta Spark platform", says Arantxa Guillén.
Colombian creators Naza Carrero and Daniel Murcia, Colombians certified in this tool, and who are already working with national and international companies to create content with more immersive and creative audiences, participated in the presentation of the platform.
"Like Naza and Daniel, who in addition to exporting their talent, help brands around the world connect with their audiences in more immersive and creative ways. We will continue to bring these initiatives to the country so that the AR ecosystem and economic opportunities continue to grow." adds Arantxa Guillén.
Facebook, Instagram and WhatsApp, allies of entrepreneurs
In addition to Meta Spark, Meta tools are designed for Colombian businesses and ventures to achieve better digitization.
In this space, the attendees had a workshop on the options they find in tools such as Instagram and digital marketing on Facebook, tips for creating content and strategies to reach new audiences.
The changes that WhatsApp Business has had to facilitate sales processes and create communities according to the needs of each business and users were also analyzed.
---
Main Image: Meta