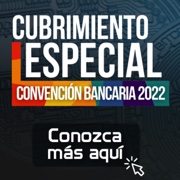 Within the framework of Banking Convention 2022, in the midst of the informative alliance between ImpactoTIC and Valora Analitik, The panel on the inclusion of women in the financial and technological sectors was held.
Although these sectors were always focused on very masculine elements, in recent years they have opened up possibilities for greater female participation.
To learn about these success stories, the ImpactoTIC and Valora Analitik media center were guests: Carolina Sánchez, director of communications at Oracle Colombia, Constanza García, Director of Communications at BBVA Colombia and Maritza Pérez, Retail Vice President of Banco Davivienda.
The inclusion of more women in organizations is a short-term goal. The objective is to achieve gender equality in managerial positions but also to achieve equity in salaries and participation.
We could not leave behind the role of women in the financial sector.

Carolina Sánchez, Communications Director of @OracleLatam, Constanza García, communications director of @BBVA_Colombia and Maritza Pérez, VP @Davivienda. pic.twitter.com/bcOhGac4uv

— Impacto TIC (@ImpactoTIC) August 19
"We have made progress, the sector has become much more aware of issues of equity and greater inclusion of women," points out Constanza García, Director of Communications at BBVA, and highlights andThe work that Asobancaria has been doing with the inclusion and diversity protocol that was socialized during the 2022 Banking Convention.
At the same time, it highlights that entities such as BBVA are currently an example of equity, 60% of its staff is made up of women, while 40% of management positions are female talent. "This is a policy of the organization, not only to make room for more women but also for communities such as LGBTI and ethnic, which had a certain lag in the organizations," points out
Salary gaps
Banco Davivienda has also focused on this policy, centering its plan not only within the organization but also with its clients. "Davivienda by history is an organization whose brand is a woman's name, our approach is very feminine", clarifies Mariza Pérez, Retail Vice President of Banco Davivienda.
Hand in hand with gender inclusion comes a fundamental factor that has become common within banking and financial organizations, and that is ensuring that women earn the same salaries as their male counterparts.
"We recently looked at the pay gap again, and Davivienda's full report showed 2 percentage points above women earning more than men. Here what has prevailed is the talent more than a decision for this to happen", emphasizes Maritza.
More female references
From the point of view of the technology sector, the picture is similar. However, Carolina Sánchez, director of communications for Oracle Colombia, cites an example and recalls that this sector was initially led by women, so much so that the first programmer was a woman.
"We are interested in attracting more women to technology, but that was their territory, in science and technology we have important role models for women", Caroline points out. Faced with this situation, he considers that having regressed is partly due to the fact that men have been more risky now to give themselves visibility.
"At Oracle we have realized that if a woman sees that one of the 10 points required for a position is missing, she considers that she cannot participate. While the man sees that he does not meet 9 he jumps in and wins the position", emphasizes.
If you missed this panel, we invite you to watch it in its entirety on our YouTube channel.