A little over 30 years ago, Colombia was already making a decisive move towards digitization. The rapid movement of the server market sought to meet the need that these teams had for an adequate electrical infrastructure, but there were few companies in the country marketing solutions that would adapt to these changes. When Graciela Manotas signed the contract to market UPS Eaton and supply this market, she was the only woman in the room.
With this contract, the UPSistemas company was created in the country, which today continues to be led by a woman and who now more than ever understands the value of diversity in the ICT sector. "Diversity has been fundamental for us -says Martha Hernández de Gómez, current president of the company. This knowledge of different disciplines and different experiences complement the solutions when there is a problem ". Despite this, it is undeniable that the ICT industry sector continues to have low diversity.
Making a little history
The history of computers in Colombia, curiously, started more than 60 years ago, when Bavaria imported the first IBM 650 into the country. This, obviously, was not a computer made of integrated circuits, since they had not yet been invented, but it was made up of tubes and handled with punched cards. Interestingly, many of the programmers for this type of machine were women, a panorama very different from what we see today.
Around this same time, giants like Coltejer, Ecopetrol and Empresas Públicas de Medellín joined the trend, each with its IBM 650. Back then, personal computers were still a dream of the future, and it would take until 1980 for this segment to take hold. Manuel Davila and Iván Obregón founded Microtec that year, and fully entered the nascent market of microcomputers, precursors of the current PC -personal computer–.
Dávila and Obregón sold RadioShack microcomputers, and Dávila developed an accounting program, in Basic language, that came with each computer. However, international industry also arrived in the country, with the NEC computers that came from Carvajal, and IBM, through J. Glottmann. The increased relevance of computing was unexpectedly accompanied by a slump in the interest of women to study subjects related to computer science.
In terms of national industry, the 90s meant a significant increase in computers assembled in the country, known as 'clones'. According to Álvaro Montes, the market for 'clones' was 50%, assembled mainly in the Unilago sector, in Bogotá.
Today, some of the most recognized national brands are Janus, PC Smart and Compumax, which in turn assemble and produce components and accessories for computers as well as tablets and some smartphones. In the same way, in the field of software and business services, the country has had important undertakings, such as the formation in 1987 of the National Association of Software Industries, Indusoft, now known as Fedesoft.
In many ways, the ventures born from the national software and hardware industry have moved in step with the international current. Although, according to figures from the MinTIC, the telecommunications industry represents 6% of the Colombian GDP, in the country there is still what is known as the digital divide. And although the ICT industry is innovative and constantly advancing, diversity has been an area in which it still has very evident deficiencies.
Access and diversity
According to a report from the Economic Commission for Latin America and the Caribbean (ECLAC), in Colombia only 67% of 15-year-old students have Internet access; 62%, to a computer, and 29%, to educational software. According to Ivan Mantilla, former Deputy Minister of Connectivity and Digitization at MinTIC, 53% of Colombian households have fixed Internet connectivity. In the past, moreover, the computing space has struggled like the image that computer users tend to be men.
In the rural Colombian sector, where around 10 million people live, there is not even mobile Internet coverage using the 4G network. Speaking to Impacto TIC, Mantilla stressed: "Today, only 9,6% in rural areas have mobile Internet (4G), and let's not even talk about the fixed, because it is practically unfeasible".
This lack of connectivity has also resulted in a lack of diversity in the ICT sector. Afro communities, for example, have a greater concentration in territories such as Chocó, Valle del Cauca or San Andrés, which precisely tend to have lower percentages of technological penetration and connectivity. As we have already said in Impacto TIC, education and access to new technologies were fundamental in the creation of Silicon Valley, so they will also be fundamental if Colombia is to be taken down the same path.
Where is the diversity?
In a video posted on YouTube, which records a conversation between different actors in the world of science in Colombia with Mabel Torres (Minister of Science, Technology and Innovation), Roberto Rojas Dávila, head of the Section for Groups in a Situation of Vulnerability of the Organization of American States (OAS), affirms that the solution so that more people of the Afro-Colombian population reach the ICT sector is in the accompaniment and follow-up in the search for education-based outings. Racism remains a relevant problem in the national and international ICT sector.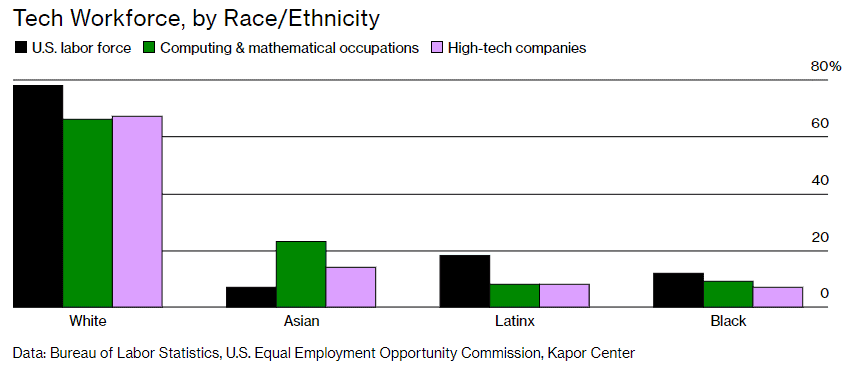 And it is precisely Silicon Valley - the region where the national government has set its sights as a model - has for years had problems to ensure diversity in universities and companies. According to data from Wired published in October 2019 and compiled from the same companies, Apple, Facebook, Google, and Microsoft are made up almost 90% of white or Asian people.
In U.S.By 2017, only 9% of computer science graduates were black. In the same way, here in Colombia graduates from the Pacific Region (West) make up 10,8% of all training areas in higher education. Moreover, women are still a minority in the Colombian ICT sector, which in turn reflects the low 23% of female talent that is part of some of the largest companies in Silicon Valley.
Colombia is a country of high ethnic diversity, and although it is normal to have regions with a high concentration of inhabitants, such as Bogotá and Medellín, in a market that needs more and more talent it would be counterproductive not to guarantee the means of access to women, black communities and indigenous people of the country.
Examples and initiatives
And although it is a markedly masculine industry with low figures for diversity, in the country and worldwide there are examples that show an industry much more open than one might think.
"The fact of adding experiences and ways of seeing things helps to solve things", says Martha Hernández, from UPSistemas. "For the country it is important, on the one hand, to have the humility to understand that one does not know them all. Second, that common sense and diverse experiences complement theoretical knowledge a lot ". The company's business has grown from the commercialization of UPS to the design, supply and installation of infrastructure for data centers with clients such as IBM Colombia and Claro.
In the same way, The recently formed Ministry of Science, Technology and Innovation is led by Mabel Torres, a native of Bahía Solano (Chocó), that recognizes the need what has the nation for reaching those remote regions and connecting Colombian talent with the appetite for entrepreneurship.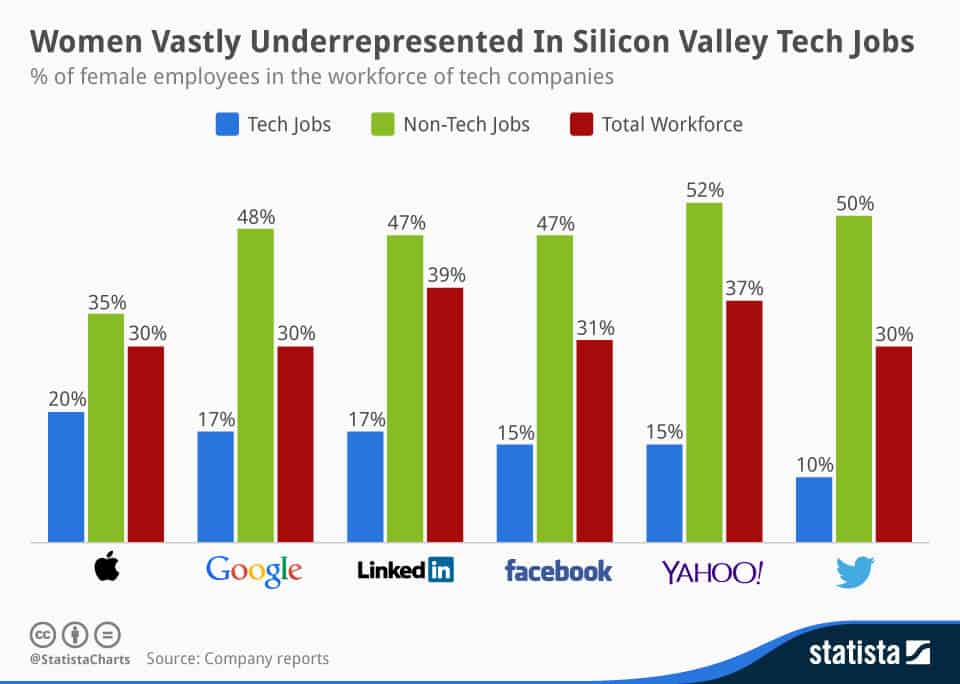 Even indigenous communities They have ventured into the field of applications, not only as consumers of Facebook or WhatsApp, but also using them as tools to extend their teachings and their indigenous culture.
And on the international scene, the situation is somewhat better: Lisa Su is an engineer at the Massachusetts Institute of Technology and CEO of AMD since 2012, and much of the current company success it is due to his leadership. Mary Barra is the first CEO of General Motors, and her vision for an electric future has guided the auto giant through this period of change.
Indra Nooyi, a native of Chennai, India, served as CEO of PepsiCo; Safra Catz is the current CEO of the giant Oracle; Susan Wojcicki is the CEO of YouTube; Gwynne Shotwell is the President and COO of SpaceX; The examples are many, and the ideal is that they in turn become role models for young women who hesitate to enter the ICT sector.
Entrepreneurship, diversity and technology
According to the Andi, the inclusion of ethnic minorities in companies has become a competitive advantage. Beyond the pure ethnic difference, the different cultural points of view mean companies that know how to better respond to new challenges and obstacles that may arise.
Colombia is a tremendously diverse country, but it is key that we know how to use this diversity to make it a strong point. The conjunction between diversity, technology and entrepreneurship has a gigantic potential for the country, but the ability to take advantage of it is in the hands of society, companies and government.
Main Image: Sharon McCutcheon en Unsplash