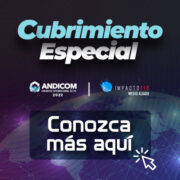 EdgeOne It is a new company, but with a history of more than 25 years in the country. Formerly known as RedUno, for 3 years the company has had exponential growth that has allowed it to reach new businesses and expand into new sectors.
Currently the company focuses its efforts on edge computing, cloud and in general all issues related to connectivity in Colombia and in the Latin American region.
To talk more about the company and its goals at ANDICOM 2022, at Impacto TIC we spoke with Diana Villamizar, Country manager of EdgeUno in Colombia. We invite you to watch the interview below.
---
Featured Image: EdgeOne