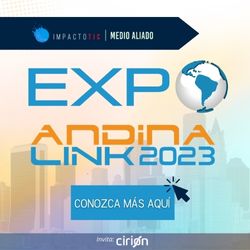 Andina Link, The prestigious international fair for telecommunications and convergent technologies will be an ideal space to do business in a year that is shaping up to be key to the economic recovery of the industry.
At this point they agreed Luz Marina Arango, executive president of Andina Link; gabriel levy, academic coordinator of Andina Link and Diego Mendez, Cirion's senior account manager, who participated in a Hangout organized by Impacto TIC.
"Andina Link 2023 is organized in such a way that there are always networking spaces to have a favorable environment for doing business, alliances, etc. The key to the success of Andina Link, in its 30 years of existence, is that it is a space that responds to the real and specific needs of companies in the industry, from the smallest to the largest companies", highlights Luz Marina Arango.
According to Arango, working constantly to respond to the needs of companies in the telecommunications sector and accompanying them in the transformation processes has been essential for the growth of Andina Link, which in its face-to-face version in 2023 will have 145 exhibitors and a goal of 4.000 visitors.
"At Andina Link, any businessman, regardless of the size of his company, will find a space to learn about the latest trends in the sector, obtain training from renowned experts and close deals and alliances that allow him to face the challenges of the telecommunications sector. ", remarks Luz Marina Arango.
"At Andina Link, networking happens organically. This allows it to be a space to close deals and alliances"

Marina Arango Light
With business, there will be economic recovery
Luz Marina Arango, Gabriel Levy and Diego Méndez also coincided in that 2023 is shaping up to be a key year for the definitive economic recovery of the sector, after several difficult years due to the pandemic.
And it is that, although the pandemic demonstrated the importance of technology and stimulated the growth and development of companies, it also generated negative effects on strategic aspects such as the microcircuit production chain, to mention just one example.
"The pandemic showed the importance of information technologies to be connected. Information technologies proved that they must be present in all sectors. This is why 2023 should be a key year for the economic recovery of the sector", says Gabriel Levy.
"That is why Andina Link is such an important event for the sector. Because in addition to contributing to the training of entrepreneurs, it generates the ideal spaces to make investments, undertake new projects and adapt companies to the ever-changing reality of the world of technology", he adds.
Gabriel Levy, who is in charge of coordinating Andina Link's academic agenda, points out that one of the great pending aspects of the event is to achieve the participation of mayors and officials of public entities who should attend to carry out projects that generate development in their respective regions.
"Andina Link's agenda is adequate to the reality of our country and Latin America. We do not concentrate on literature but on reality"

gabriel levy
In his turn, Diego Méndez, executive of Cirion Technologies, points out that The companies that attend Andina Link recover their investment immediately thanks to the networking spaces that usually generate specific businesses.
In addition to the economic challenge for 2023, Méndez points out that another of the great challenges for this year for technology and communications companies has to do with the issue of security.
"This year there are challenges in terms of investment, technological consolidation and security. Now that we are all hyperconnected and that technology is present in all sectors of our lives, it is essential to advance in security".
Andina Link will be held in its 2023 edition in person from March 7 to 9, at the Las Américas Hotel and Convention Center in Cartagena.
Among the main activities of Andina Link 2023 is the FICA Forum (Ibero-American Convergence and Audiovisual Forum), academic courses for technological updating and the commercial exhibition of the exhibition.
If you missed the Hangout, relive the best moments here: