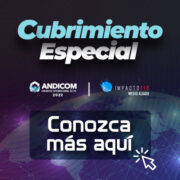 Every day that passes we live in a more digitized world, which has brought different advantages and technological solutions that facilitate our day to day. However, this expansion has also meant an increase in the vulnerability and dependence we have on digital devices or systems.
In this sense, cybersecurity has become one of the most important pillars for companies and users. In the context of ANDICOM 2022, it is not surprising that cybersecurity is one of the most widely discussed topics and that it raises the most concerns and concerns.
En Impacto TIC we had the opportunity to speak with Jorge Imues, regional sales manager at A3Sec, about the company's vision and the industry's need to create increasingly robust and secure systems.
Next, the entire interview:
---
Main Image: Impacto TIC