Business development advances through digital scenarios and platforms. Entities like Bancoldex, have been significantly increasing their offer of new channels for the business growth of small and medium-sized companies in the country.
What do these new technological tools consist of? Where are the opportunities? How much are they taking advantage of? How can small and medium-sized companies in Colombia take more advantage of these scenarios to connect with opportunities and businesses?
Justly, with the aim of launching, explaining and positioning the non-financial services channel 'Connect Digital' As a new technological platform that, thanks to its innovation and wide range of services, contributes to business strengthening, Bancóldex held the Hangout 'Conecta Digital: benefits to boost your company'.
Moderated by Mauricio Jaramillo Marín, director of Impacto TIC, the Hangout was attended by Efren Cifuentes, head of non-financial services at Bancóldex; Isabel Cristina of Avila, expert consultant in regulation, digital transformation of Mujeres TIC, Ana Milena Bulla, executive director of Mujeres TIC y Yeinni Andrea Patino Mora, VP of competitiveness and cooperation of Confecamaras.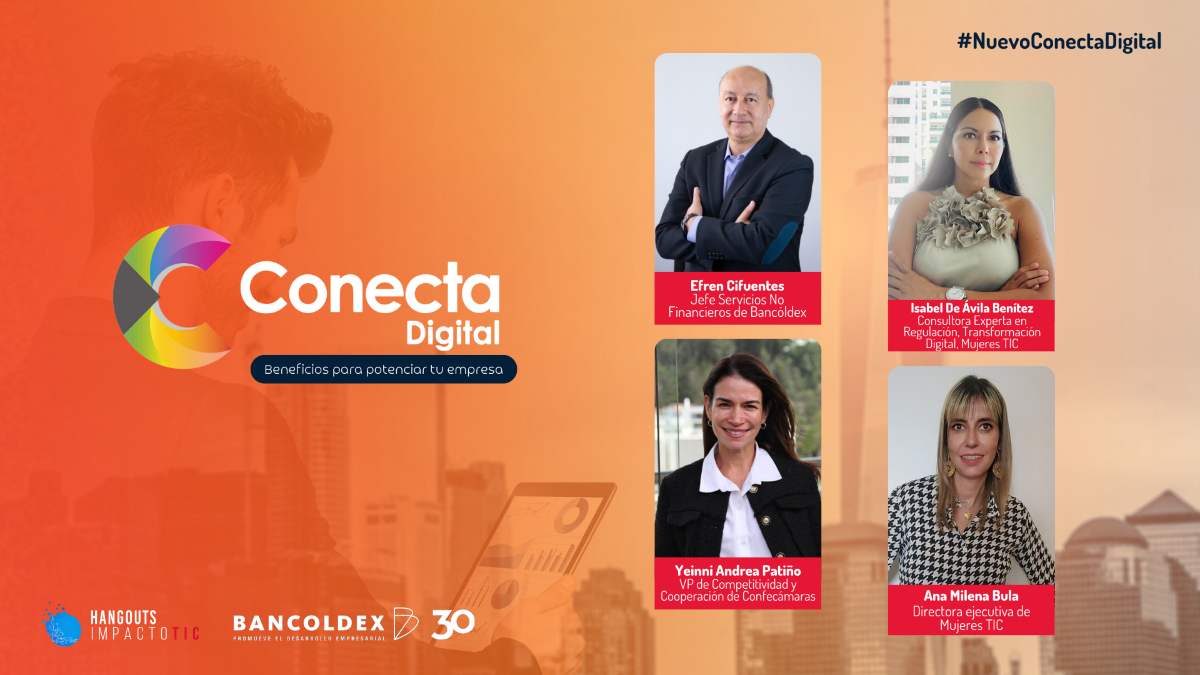 Connect Digital: business strengthening
Efrén Cifuentes, head of non-financial services at Bancóldex, explained that Conecta Digital is a new channel with a broad portfolio of non-financial services that seeks business strengthening through training services, courses, workshops, technological tools and technical assistance.
"Years ago we realized that companies not only need money, but also have other needs that have to do with optimizing processes of competitiveness, administration and commercial and management productivity. The challenge is for businessmen to learn about initiatives like this one from Bancóldex to strengthen not only sales, but also other areas such as competitiveness that generate another type of value for companies", Cifuentes said.
The Bancóldex official clarified that the Conecta Digital channel is aimed at all types of businessmen, from those who are in the so-called 'popular economy' to those who run large companies. "Obviously we understand that the needs are different but the ultimate goal is the same: the strengthening of all companies in the country."
"Most entrepreneurs have gaps in terms of Digital Transformation. The challenge is how to reach all business segments with new knowledge and digital tools so that they become stronger and have access to new opportunities. We already did it in person but the pandemic forced us to migrate to digital and there we realized that virtuality generated a very powerful tool for us to reach entrepreneurs"
The head of non-financial services at Bancóldex explained that Anyone who does business in Colombia, even if they are not a bank customer, can access Conecta Digital's broad portfolio of non-financial services free of charge. just by having internet access.
"The invitation to entrepreneurs is to participate in creating a business strengthening network thanks to the knowledge they can obtain with the portfolio of non-financial services. Many times there are similar programs that are not taken advantage of due to ignorance," pointed out Cifuentes who invited small entrepreneurs to present -even- Innovation projects suitable for the size of their companies.
Find out how you can access the new business strengthening portfolio of @bancoldex. We talk to experts about opportunities for entrepreneurs and entrepreneurs. #NewConectaDigital

Join the broadcast, here >> https://t.co/jTLd5pReAD pic.twitter.com/FG0cCdBBdK

— Impacto TIC (@ImpactoTIC) October 19, 2022
The segmentation of companies is fundamental
Isabel Cristina de Ávila, expert consultant in regulation, digital transformation of Mujeres TIC, highlighted that, to connect the business ecosystem with technology, it is necessary to segment the market of beneficiaries according to the level of maturity of the business.
"The segmentation of companies is very important for the success of this type of initiative because it allows the needs of the beneficiary entrepreneurs to be properly identified. The popular economy has particular characteristics that are far removed from the characteristics of a formal and consolidated company. Therefore, this first step is very important.said Isabel Cristina of Ávila.
"The popular economy has characteristics such as informality, poverty and technological backwardness. For a person who is in this sector with the desire to progress, but without access to credit, it is essential to understand digital connection strategies practically from scratch. In the popular economy, you have to start with a process of technological literacy to achieve successful business results"
De Avila stressed that For more established companies, it is also important to create awareness of the importance of investing in technology. "It is no longer necessary to convince the importance of technology but to advise on which is the most efficient alternative".
As he explained, the success of training programs on technological, commercial or administration issues for entrepreneurs largely depends on this segmentation or identification of the needs of each type of company.
The importance of digital culture
Ana Milena Bula, executive director of Mujeres TIC, assured that For the strengthening of large and small companies, it is essential to promote a digital culture.
"New technologies are useless if there is no digital culture for them to be applied for the growth of companies. In the same way, it is very important to guarantee connectivity so that these tools reach the entire country without any type of technological discrimination and thus close the digital divide", assured Ana Milena Bula.
In addition, he assured that another important factor is to guarantee that companies can access a trained human resource that allows the appropriation of technology.
"In order for companies to become stronger, it is necessary to have highly trained human resources in the use of new technologies and at this point it is important that there is a government training strategy", He said.
The contribution of Confecamaras
Yeinni Andrea Patiño, VP of competitiveness and cooperation at Confecamaras, He highlighted the importance of programs such as Bancóldex's Conecta Digital and the role of his association for business strengthening in the country.
"Digitalization is essential for the growth of companies and this was evident with the pandemic. The pandemic accelerated the digital sales process and since then we have started working, not only with Bancóldex, but with the 57 cameras included in Confecamaras. We created 18 platforms that became the fundamental tool that brought producers and clients together".
The representative of Confecamaras highlighted that, in addition to this need to advance on issues of Digital Transformation and new commercial and administrative knowledge, financing and training of their human capital is essential for the survival of companies.
"Our main concern is not how many companies are created, but how many are sustained and strengthened. At Confecamaras we help with issues as basic as creating an email, taking photos, even promoting regional initiatives and providing knowledge tools such as studies and research".
In the Hangout, 2 success stories of entrepreneurs who have taken advantage of the different Bancóldex programs were presented and the new Conecta Digital channel: William Botero, who 30 years ago founded Willdeportes, a company that sells sporting goods in Pereira, and Arnold Arias who, in the midst of a pandemic, also founded Todo Cajas in Pereira, a micro-company dedicated to the manufacture of packaging for different products.