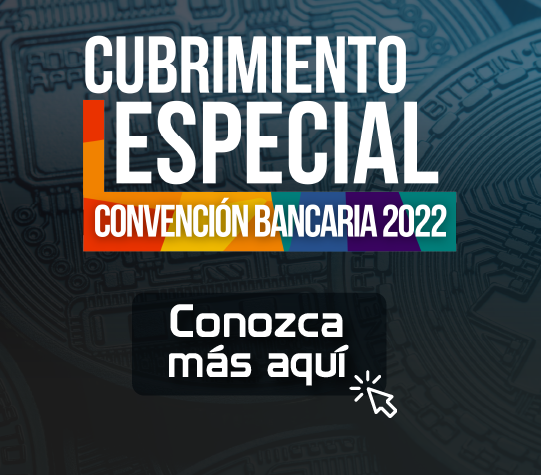 Make decisive progress in the decarbonization of the economy and in the knowledge of cryptocurrencies as a new economic tool that can be used in a safe and informed manner, they will be two of the most important challenges for Grupo Bancolombia in what has to do with the Digital Transformation of banking.
This was assured Juan Carlos Mora, president of Bancolombia in the Noti-Convención news program carried out by the informative alliance Impacto TIC and Valora AnalitiK within the framework of the Banking Convention that takes place in Cartagena.
"What we are doing at Bancolombia is betting on the issue of sustainability as a contribution to the fight against global warming, which is a problem that affects Colombia and all humanity. The only way to address global warming is to work together and that is why the financial sector is highly committed to solving this problem."Mora assured.
"In concrete terms, what we do at Bancolombia is to use advanced analytics to diagnose the carbon emissions of our clients to undertake actions and strategies that allow the decarbonization of the productive apparatus with the consequent positive effect on the entire society", Agregó.
According to the president of Bancolombia, according to the measurement of the carbon footprint of each corporate client, a strategy can be designed to reduce that footprint. "That is where we help with credits that help a sustainable goal."
"Basically we tell the client: you have these needs in terms of carbon footprint and we can help you with credits with a favorable rate to meet the objective of decarbonization, an objective that benefits us all", said.
Mora added that his company already manages the so-called sustainable bonds that are precisely used as a mechanism for funding new projects linked to the environment.
#EnVivo 🔴

We start with #NotiConvention. Today we have as guests Juan Carlos Mora, president of @bancolombia, José Mutis, Country Manager at @SAS.

Follow the broadcast >> https://t.co/Bt9JccyXF1 pic.twitter.com/8usgWA9TKZ

— Impacto TIC (@ImpactoTIC) August 18
Cryptocurrencies and Blockchain
According to Juan Carlos Mora, topics such as Blockchain and cryptocurrencies are essential for the development of the new banking in Colombia.
"Cryptocurrencies and Blockchain are fundamental issues for us because they are the vehicle that connects traditional finance with the new decentralized finance that is a global trend. The basic idea is that we can advance in the development and regulation of a cryptocurrency system that allows ordinary people to access this new world, but in a much more structured, informed and secure way."Mora assured.
According to the president of Bancolombia, the new world of cryptocurrencies is here to stay and, in that vein, it is necessary for traditional financial institutions to help provide their users with alternatives for their use in an efficient and secure manner.
"It is important that people understand the risk of this new world of cryptocurrencies and, with the right information, make the best decisions. It is in this sense that we are advancing".
Juan Carlos Mora also highlighted how new technologies help in issues such as financial inclusion. "The new banking, which uses advanced analytics, allows us to be much more proactive in granting credit. We no longer expect the client to come to the branch, but instead, after analyzing their needs, we can offer them credits that respond to their specific needs ".
In his turn, José Mutis, country manager of SAS, highlighted the importance of the advanced analytics that his company develops throughout the analysis and diagnosis process carried out by financial entities to offer more and better products to their clients.
"Active data is a factor in improving the experience of banking customers. The information can be improved with advanced analytics and when the financial system uses these tools it can offer a better service to customers", said Mutis.
In addition, he highlighted that SAS has just published an Ebook that addresses the 10 most important trends in banking in terms of technology and innovation.