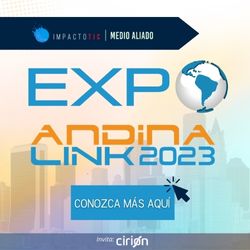 Andina Link, the prestigious international fair for telecommunications and convergent technologies, will be held in its 2023 edition from March 7 to 9, at the Hotel and Convention Center Las Americas in Cartagena.
Andina Link, event with 28 years of experience, It has positioned itself as the ideal place for negotiations and industry networking in Latin America.
In addition, It has become an ideal forum to analyze the new trends and the latest technological advances in the industry, standing out for bringing together the leaders of the ICT sector, decision makers in the government and large companies.
The 2022 edition of Andina Link brought together more than 3.500 visitors from 34 countries and more than 90 exhibitors, and offered 6 academic sessions and 2 courses. For the 2023 edition, these figures are expected to be exceeded, thanks to the varied offer of academic and commercial activities.
Among the main activities of Andina Link 2023 is the FICA Forum (Ibero-American Forum of Convergence and Audiovisual), academic courses for technological updating and the commercial sample of the exhibition.
The FICA Forum will take place during the 3 days of Andina Link in academic sessions of great interest to professionals who wish to broaden their knowledge and implement new processes in their companies.
FICA is an ideal space where executives and leaders of television operators, Wireless, WISP, ISPs of Ibero America, can jointly analyze and study the financial, commercial and technological impact of the implementation of audiovisual content and new technologies in the digital age.
The Thematic axes of FICA 2023 will be regulation, content and provision of services. The moderators will be Gabriel Levy, Tomás Delgado and Fernando Devis.
In addition, For the first time Andina Link will have a special space for Smartcities, in which experts will address the multiple dimensions of Territories Iintelligent, including regulatory, technological, social, environmental, economic and commercial aspects.
Impacto TIC It will be an ally of Andina Link 2023, where it will carry out coverage that will include live broadcasts and permanent publications through our website and social networks.
Here are some of the most outstanding academic events of Andina Link 2023:
academic agenda
Tuesday March 7
Andina Link 2023 Installation
In charge of Luz Mariana Arango, president of Andina Link Cartagena 2023, Paola Andrea Bonilla Castaño, executive director of the Communications Regulation Commission (CRC), as well as union representatives and the ICT Ministry.
FICA Panel: 'Innovative and Intelligent Regulation: The present challenge'
Fostering Innovation and accelerating the speed of adaptation of the regulatory framework to technological advances is one of the greatest challenges of this decade. Precisely to evaluate this important issue, Andina Link 2023 will present experts in the field.
Participants: Galé Mallol Agudelo, executive president of the Association of Technology Operators (Asotic); Ivan Dario Tellez, General Manager of Atempre – Consulting and Business Transformation; Basilio Rodriguez, President of LAC-ISP – Federation of Associations and Chambers of Internet Providers of Latin America and the Caribbean, Hoffman Alberto Rios, President of the Association of the National Telecommunications Unit and Helga Lorena Angarita Croswaythe, president of the Intercable TV Colombia network, international coordinator of the certal chapters.
Tuesday March 7 The conference is also scheduled: Is the subscription television business dying? This space will analyze the phenomenon of platforms in Latin America and how to deal with it by subscription TV operators.
Wednesday March 8
FICA panel: 'New technologies for high Internet speeds'
This panel will address topics such as: Broadband; online teleconferences, connected video games, OTT video platforms, the cloud and quality in network connections. They participate as panelists Rodolfo Bianchi, president of the Argentine Chamber of Small Internet Providers (Cappi); Carlos Eduardo Faria, consultant Ef Technology and Leonardo Antonio Rodriguez. CEO and founder of the Latin American group TCA.
FICA panel: 'Neutral networks in Latin America'
This panel will analyze how the provision of telecommunications services has historically been linked to ownership of the network infrastructure, but also how other models that have to do with sharing telecommunications infrastructure are beginning to be established.
Participate Salvador Bertenbreiter, CEO – Peru Ix & pit Colombia; Basilio Rodríguez, president of Lac-Isp – Federation of Associations and Chambers of Internet Providers in Latin America and the Caribbean and Rodrigo Hernán Acosta, president of the CCC media center.
Thursday March 9
FICA Panel: 'The Internet of Things (IoT) as a business opportunity for telcos and ISPs'
From surveillance cameras, to complete home and office automation controls or irrigation control systems in large crops, automatic devices and sensors have become an important new business unit for Internet access providers. .
This topic will be analyzed by: Alejandro Salazar Diaz-Granados, business developer manager Atempre – Consulting and Business Transformation; Christians Valle Gomez, Latam business development consultant and Ronal Jamid Bohórquez, commercial manager Meltec.
Below is the general agenda for Andina Link 2023: