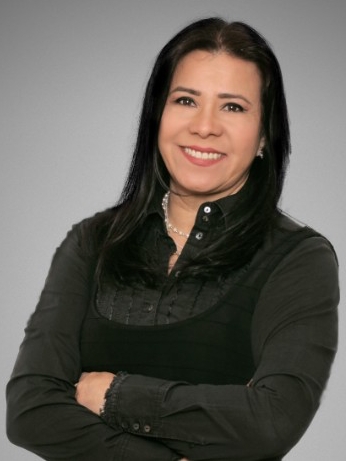 "Highly insufficient." This is how he qualified Climate Action Tracker (CAT) Colombia's climate goals and policies, which indicates that its commitments are not consistent with the limit on the temperature rise of 1,5 ° C established in the Paris Agreement and cause an increase in emissions. Therefore, The country requires clear policies and goals that make emission reduction feasible and its global responsibilities.
According to the report published by CAT, the reason for this rating is that the country's climate policies and goals are not aligned with climate change goals.
"The current policies and those that are being planned are not enough to achieve their objectives. This is delicate, and it means that the country has to design much stricter and more ambitious policies or measures to align with its own climate change mitigation goals and with the Paris Agreement ", indicates Gustavo Adán De Vivero Serrano, climate policy analyst at NewClimate Institute, organization that is part of the Climate Action Tracker.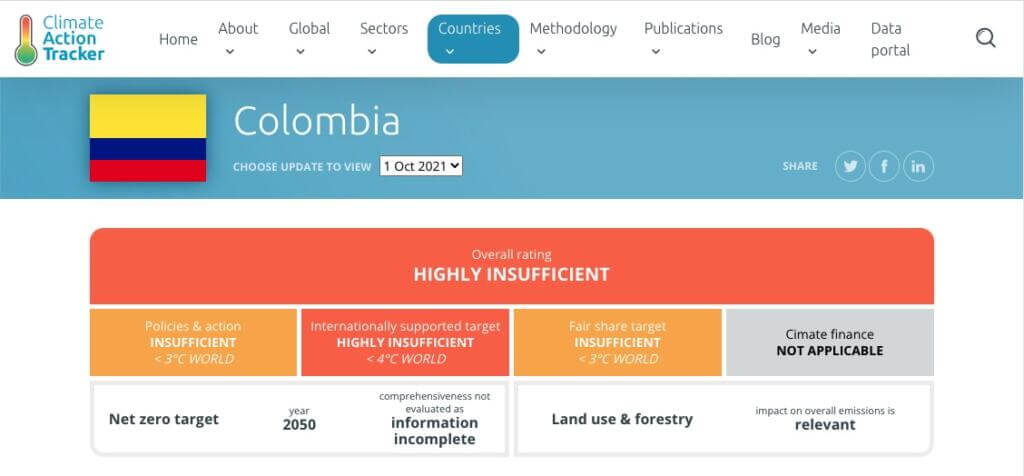 When analyzing the Nationally Determined Contribution (NDC) goals that Colombia updated in December 2020, There are contradictions between the proposed objectives, the actions to be implemented and the reality of the country's environmental management. These aspects are what leave the country in an unstable position. In this regard, De Vivero Serrano –one of the report's managers– explains the implications of these measures.
«The climate objectives they propose indicate that the greatest amount of emissions to be reduced, up to 70%, comes from soil management, through the reduction of deforestation and forest restoration. This would make sense because it is the sector that contributes the most to the country's total emissions, but it contrasts with the current situation, which year after year deforestation increases, as evidenced in 2020, when 170.000 hectares were deforested. Additionally, the government proposes in its 2018-2022 National Development Plan to increase this deforestation to 220.000 hectares, when the goal should be 0. This is not in line with its own objectives, and if Colombia continues to increase deforestation, it will not achieve the goals it sets itself.
Excluding land use, energy is the second largest emitting sector in Colombia, despite the emphasis on 'green' growth raised in the Policy for Reactivation and Sustainable and Inclusive Growth (PRCSI). CAT specifies that Colombia includes few projects that focus on greatly reducing the consumption of fossil fuels; in fact, according to a recent report on the ongoing energy transition in Colombia, viable sources are considered "Low emissions" for everything from electricity - regardless of its source and transport to heating and cogeneration with geothermal energy - and other energy sources in industry.
"The Colombian economy, which largely depends on coal, continues to bet on fossil fuels with fracking. If it continues like this, it will affect its own economy because it will have high environmental and financial costs, because countries are betting on decarbonization and, soon, companies and multilateral banks will stop investing in fossil fuels, leaving Colombia with stranded assets and with economic losses ", De Vivero Serrano points out.
The report emphasizes that the energy and agricultural sectors will continue to be the highest emitters of the Colombian economy until 2030. However, to date, no updated mitigation plans have been published for these sectors, nor for industry or transportation. Colombia will need to implement additional policies using its own resources, but will also need international support to implement additional policies in line with full decarbonization.
This radiography of the climate policies and objectives that 'slits' Colombia in its rating shows that the country must align its policies, actions and economy towards a sustainable future. This is a problem that must be tackled as a nation, as humanity. Governments are short-term, but climate impacts are permanent, so immediate and clear actions must be taken to be part of the solution and not the problem.
Ximena Serrano Gil is a scientific journalist with extensive experience in handling specialized information, adviser, researcher and speaker on issues related to the dissemination of science, technology and innovation, and the appropriation of knowledge. Since the presidency of the ACPC, he has dedicated himself to the design and implementation of training strategies, programs and projects in journalism and science dissemination for journalists and scientists.
---
Main image: Pixabay (Pexels).