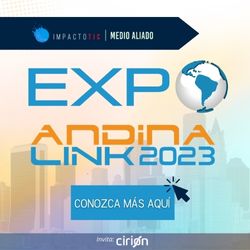 70% of the services offered by Cirion Technologies it has to do with connectivity and the remaining 30% with data center and security. This is why this company has a lot to contribute to the National Government's goal of bringing the country's connectivity from 60 to 85%.
Within the framework of Andean Link 2023, Juan Manuel Gonzalez, Cirion's Connectivity and Technology leader, spoke with Impacto TIC about the importance of large technology companies for the connectivity strategy promoted by the government.
"Our message at Andina Link 2023 is that Cirion Technologies not only has business as its objective -which is valid- but we are also an important actor that can contribute to the strategy of improving the country's connectivity and contributing to development", assured Juan Manuel González.
Cirion's Connectivity and Technology leader highlighted that his company seeks to expand its coverage to rural areas of Colombia where people still do not have Internet access.
"The challenge for companies like ours is to reach more rural areas to offer technical solutions at a fair price. In addition, we can support the local ISPs that provide the service to the communities with technology".
Next, the interview with Juan Manuel González, director of Cirion Technologies.