That our routines as we knew them are going to change is a fact that has no way back. The uncertainty that COVID-19 has brought to the world can last far beyond the preventive isolation measures that have been imposed by the world's governments; the gradual reactivation has shown that as soon as they are fully lifted, it will be unrealistic to think that everything will return to normal as we knew it.
Our habits have changed, and will surely continue to change as humanity overcomes the pandemic state. And many of these changes have been sustained by different technologies that allow life and work to continue despite the distance and the absence of physical contact.
Today more than ever, and especially in a post-pandemic world, the digital and technological applications that allow us to adapt our habits take on greater relevance. In this context, it would not be fair to talk about technologies «Less important»Than others, but there are some that stand out from all the others, either because their massive use has allowed different sectors of the economy to continue to function, because they help maintain social ties or because - almost nothing - they save lives.
After conversations with industry leaders and tours of digital spaces highlighting the value of technology in this pandemic, we selected 5 that have made it possible to mitigate the impacts of preventive isolation at the national and even global level, and which will be even more relevant in a future post-pandemic. And surely they are more, that we invite you to share with us and with our audiences in the social networks of Impacto TIC.
Cloud Computing
Generally speaking, Digital Transformation was barely halfway through in many companies, so those that had already migrated their systems to the cloud have had an advantage during the pandemic. Despite the losses in world markets, companies working to offer cloud services have emerged as a major need for other companies and for the governments of the world.
Fernando Sotelo, director of strategic alliances and customer experience for Zoho Latin America and Spain, highlights the importance of the cloud beyond the business sphere: «At Zoho we consider that Cloud technologies have a much greater purpose than simply being a channel to deliver software on demand at a lower cost. Above all, it allows us to work or study from anywhere, while freeing us from the fear of losing our information and from the bonds of physical spaces. " It should be noted that Zoho is one of the most complete business suites and that has adapted its efforts as the crisis progresses.
Although services of any kind —such as storage, office automation, and even software repositories— can be hosted in the cloud, those related to videoconferencing and communications applications have had a special representation. This is the case of Zoom, which has been used in work environments, as well as to organize parties for friends and even even marriages. Its popularity has grown up to 300 million daily users, a gigantic jump if we think that just a couple of months ago this number was only 10 million.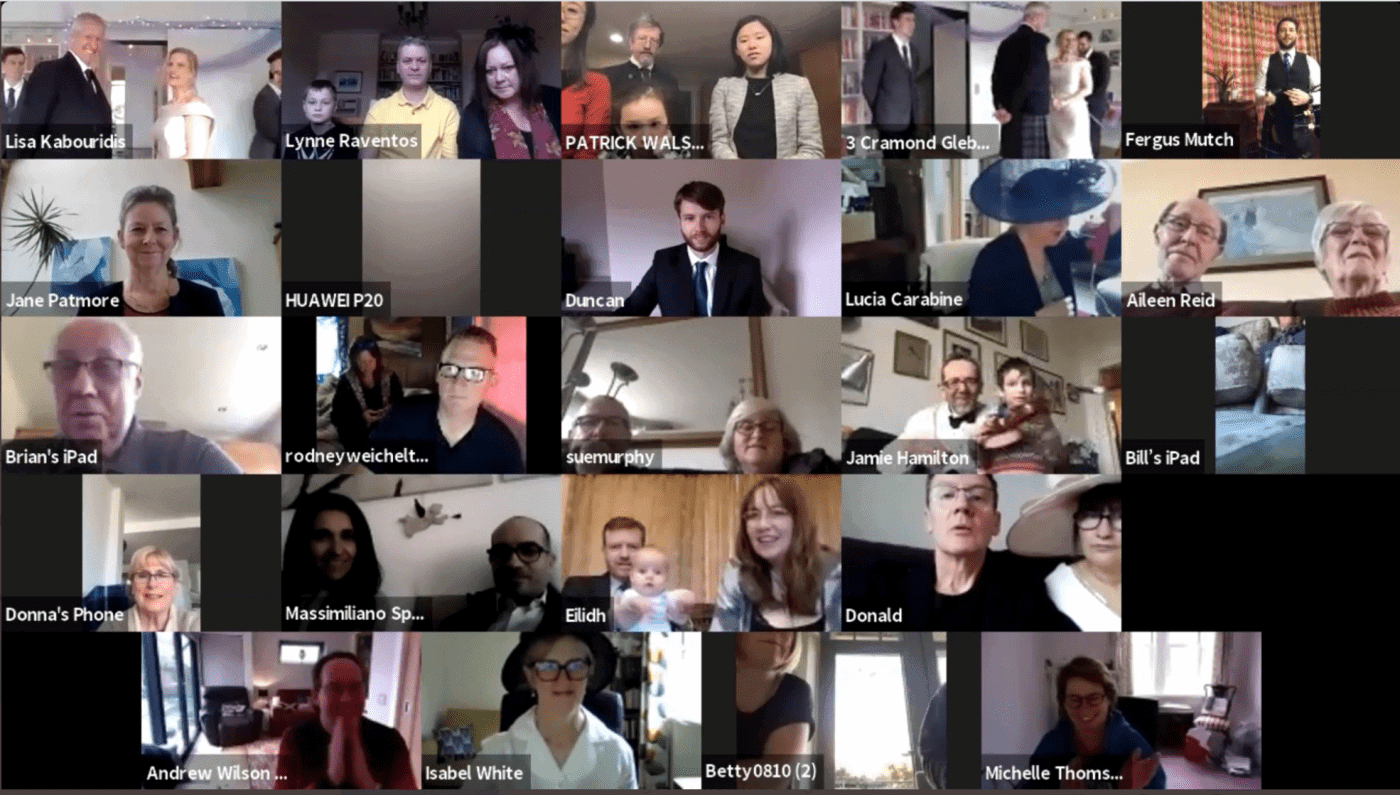 Sotelo confirms this trend on Zoho's side: «Remotely have seen great growth during this crisis. This is our suite of applications for communications, collaborative work and productivity. Without a doubt, it has been driven by the need for organizations to get their businesses to remote work quickly. Only our Zoho Meeting application, to make video calls, had growth rates of over 1.000% daily.«
The computational capacity required to serve such a large number of users is by no means modest. Video processing requires not only decent resource capacity on the server, but gigantic bandwidth as well. How can an IT infrastructure be prepared for an explosion of such magnitude?
Answer: cloud computing. Oracle, one of the largest cloud service providers on the market, was chosen by Zoom as a provider of server infrastructure services. And among the key points for the support of these infrastructures, flexibility and growth capacity have a prominent place, since the amount of data transferred reaches up to 7 petabytes (approximately 7.000.000 gigabytes). So, Cloud scalability will allow Oracle to dedicate as many resources as necessary to Zoom users, without incurring exaggerated investments.
In total, cloud services are projected to increase, on average, 12,5%, equivalent to about 291 million dollars in 2021. One of the biggest players in this space, Microsoft, experienced a 775% increase in cloud-hosted communications services, specifically Microsoft Teams. Another important player, Red Hat, also announced an increase in demand for hybrid services in the cloud and has facilitated the migration processes to its servers during the pandemic; and will continue to do so when it is finished. Some of the most used cloud services can be found below, according to information from Hostingtr tribunal.
| Cloud service | % of earnings |
| --- | --- |
| Backups | 15% |
| Email hosting | 11% |
| Productivity and office automation | 9% |
| Website hosting | 9% |
To make matters worse, the cloud has also helped health systems. According to a WestMonroe report, the healthcare sector has been one of the first to adopt cloud technologies. Digital medical history, optimization and better service to your patients are some of the advantages that this digitization has brought. This has undoubtedly allowed better scalability and minimizes risks for health personnel.
Digital merchant sites have also seen a significant increase in traffic and the best prepared are those with cloud services. Right here in Colombia, the CoronApp-Colombia application uses AWS infrastructure to store and process data. Cloud migration offers not only flexibility, but also security and support for users and businesses. Perhaps the most important lesson from this pandemic will be the relevance of cloud computing to the flexibility of the future work environment.
EdgeComputing
Despite the fact that cloud computing has become the backbone of digital systems, it is also necessary to have tools that complement, amplify and improve the quality of service. Having only a fully centralized database or data center can bring with it latency related issues (due to geographic differences, for example), as well as the risk of losing redundancy and security effects on the systems.
Edge Computing essentially seeks to make the service or customer experience geographically closer, reducing latency and allowing access to elements in near real time. For example, Smart Mobile Labs has integrated Edge computing systems located precisely in hospitals. Together with cameras and sensors in ambulances, drones and also equipped in paramedics, a hospital can monitor statistics in real time and with a very low response time. This, in turn, is also connected to cloud servers to integrate the entire set of hospitals and medical records.
Only Colombia, Internet traffic increased 11,5% in May Compared to April, which in itself had registered an increase of 38,8%. Much of this consumption is focused on video conferencing applications and streaming, so that if all the load were supported only in cloud servers, even the most robust systems could not support it. Edge computing helps relieve this burden to local servers and thus improve the experience of both the provider and the user.
Jaime Bejarano, Colombia's country lead for Red Hat, spoke to Impacto TIC to explain the impact of Edge Computing in the current context: «As the number of workforce working from home increases around the world, networks are reaching new limits. Today organizations depend on methods such as video conferencing and streaming as essential pieces to continue operating. Hence, expectations that Edge Computing will support our highly distributed needs grow.«.
According to the last user report published by Red Hat, 25% of its clients are planning to implement Edge Computing services to complement their infrastructure in the cloud. Remember that Red Hat is the company in charge of managing Vodafone's edge services in India, a country of 1.300 million people. The level of daily traffic is gigantic, and only Edge Computing can provide the necessary infrastructure stability for a project of that size.
For his part, Roberto Chávez, Manager of SAM Transactional Business Development for Secure Power at Schneider Electric, explained: "The infrastructure in Edge Computing integrates many factors. Our Edge Computing solution, which is based on the EcoStruxure architecture for the IoT, involves a physical infrastructure and a software solution, supporting servers, network equipment and all the communication that has to exist in the IT ecosystem ".
Within the next decade, Edge Computing market is expected to grow up to 14 times from what it is todaythat is, from $ 3,2 trillion today to $ 44 trillion in 2030. The potential applications are too many, and in fact analysts have claimed that the health crisis has accelerated the adoption of systems such as the cloud and Edge Computing in at least a decade.
Big Data
Where do the data entered on platforms go to? Very surely to a database connected to the cloud. Once the data is collected, it is even more important to know exactly what to do with it, how to analyze it and what algorithms are going to be used to extract truly valuable content for users. This is precisely the challenge that Big Data has, and with the avalanche of information and the increase in registered traffic, the accurate analysis of the data becomes much more valuable.
On April 29 a model was presented to predict the expansion of COVID-19 and to always be one step ahead of the disease. The effects are potentially very profound, as they can streamline preventive operations for medical personnel as well as guide decision-making and legislate based on the information gathered. The correct implementation of Artificial Intelligence algorithms to large databases can even help you find a cure more easily.
The effect of Big Data is even greater when we consider that there are also platforms where citizens themselves upload data in real time. Google has released COVID-19 Community Mobility Reports, which precisely uses GPS data to measure how much mobility has been affected in countries and regions. These data are interpreted by IA and then published in much simpler language on the Google page.
The rapid spread of the virus has caused an increase in demand for Big Data services, although there are still no concrete figures. Its effects, however, reach here in Colombia. CoronApp-Colombia is the official application launched by MinTIC in which users can report if they have symptoms of the disease, what symptoms and with what intensity. Through analytics, these data help generate heat maps and thus the personnel of the National Institute of Health can have a better image of the virus monitoring.
Long before the COVID-19 crisis, Big Data was used by banks to prevent phishing attacks. The quarantine has caused a rebound of this type of attack, and having a database of user financial behavior helps prevent theft and detect suspicious movements. In a post-pandemic era, financial recovery will also come from the side of money and investment security.
In the same way, the companies of E-commerce They have rebounded during the time of social distancing, and their operation is a standard example of what the study of consumers using Big Data represents. A giant like Amazon has one of the smartest algorithms - called A9 - when it comes to E-commerce. Online sales go through one of their most important moments, but the implementation of Big Data can turn these new buyers into long-term users.
Other technologies are involved in the analysis of large amounts of data. «Red Hat combines its work with the main open source communities facilitating collaboration between users and teams, as well as developing Artificial Intelligence and Machine Learning technologies that allow making better business decisions, analyzing and managing connected data much better with our main platforms and services«, Explains Bejarano from Red Hat Colombia.
3d print
Moving on to manufacturing, technology for printing 3D objects has been with us since the mid-80s, when Charles W. Hull created what is known as the first 3D printer. Since then, several companies have successfully implemented this type of printing on their assembly lines. Success stories are quite a few, and we can count giants like Ford (which has produced over 500.000 auto parts), Boeing (who has 3D printed commercial aircraft parts) or even NASA, which wants to explore the possibility of printing 3D objects in space. Despite all these advances, his popularity had remained somewhat hidden from the public eye.
But the rapid explosion of the crisis has created an unthinkable demand in the manufacturing processes of all kinds of medical material. From simple masks to artificial respirators, companies and the medical sector face a crisis with many patients and few equipment.
Thus, 3D printing has been presented as the best solution for this crisis. A printing machine can print face shield elements in a matter of hours, thus alleviating the needs of medical personnel. Not surprisingly, then, that The companies that already have these processes in their assembly line have also been the ones that have helped the medical industry.
Ford, for example, has reopened its 3D printing processes to assist in the manufacture of items for assembling patient respirators. The rapid response from the 3D printing community shows that, even in times of crisis, flexibility on the assembly line is a must.
Even here in Colombia respirators have been created with 3D materials, which have been featured in international media and they become the spearhead of innovation in the country. Given the proven advantages that 3D printing brings, it will be important to implement it in manufacturing processes of all kinds, whether there is a pandemic or not.
En Impacto TIC We did a Hangout with some of the makers who have helped during the pandemic, within which we include 3D printing.
Despite all the positive things that this technology brings, it cannot be ignored that the ease in the manufacturing processes It has also had some negative consequences. Printing a firearm is as easy as downloading the plans and pressing a button. We are talking about weapons that do not have an identification number and that are 'ghosts' within the regulation. The challenge is for governments and the online community to understand the associated risks and to legislate appropriately so that the technology - which is not guilty of the misuse that some people give it - is well used.
Internet communications
In the midst of the crisis, it highlights the way in which we have united in a way almost never seen before to fight a common enemy. The human being is an especially social animal, and a large part of our community instinct is what has allowed us to have current technologies.
Our communication goes far beyond the purely labor. Although it is valid to think that the ability to communicate through the Internet has a major influence on labor issues, the truth is that digital interpersonal relationships has had positive results in people who regularly speak online as a replacement for physical interactions that have been restricted.
Communications via the Internet have existed long before COVID-19, but this pandemic has also brought about a change in work and social habits.. These changes will very surely also be projected towards a future with a better way of communicating. According to the Communications Regulation Commission (CRC) of ColombiaInternet traffic in the country increased by 38,8%, from 1,5 million TB consumed in February to 2 million in March.
"In the future, we see that cloud technologies can revitalize especially sensitive sectors and areas in Latin America. Not to go too far, the crisis caused by COVID will surely lead many people to decide to return to rural areas after living in large cities.. Thanks to the cloud, they will not be limited to changing their lifestyle or, in many cases, their jobs. In this case, this reality will benefit from the projects to expand digital networks in Latin America, which many governments are already carrying out, "explains Fernando Sotelo, from Zoho.
It should be noted that this consumption only refers to the Internet from fixed connections. Even so, mobile operators have reported almost all increase in traffic monthly. It should be noted that from the same month of March, the national government decreed the removal of VAT from all data plans. This contingency measure has also helped greatly in facilitating the country's connectivity during the health crisis, especially in areas where fixed Internet connections are scarce.
From an increase in the form of teleworking, to new social ways to stay in touch with friends or family through video calls, This has been the first time for many people that technology has been the intermediary of social relationships, and it will probably not be the last.
Post-pandemic ... and beyond
The economic, social and labor effects of the pandemic have been largely mitigated thanks to technology and have allowed the world to continue to function. For the first time, it can be seen massively and tangibly that Digital Transformation is not simply a step that can be taken, but a necessity to stay afloat during times of uncertainty.
The rapid acceleration of analytics and communications systems such as 5G and Edge Computing will also bring with it a significant need to increase computing capacity. The answer to these advanced modeling systems and algorithms will not come from conventional computer systems, but will be tied to the development of quantum computing.
Although this option is further in the future, Jaime Bejarano explains that quantum computing is one of the most fascinating emerging computational techniques: "Knowing how to take advantage of the mysteries of quantum mechanics to operate in quantum bits raises the possibility of solving a whole new magnitude. of challenges. This is of great importance in modeling the complexities of the physical world and could lead to advances in areas such as materials science or medicine.«
The aforementioned technologies are just a mouthful to all the elements that are below the digital systems that nowadays flood our daily lives. Rather than facing the present, it is important to think about the future after the pandemic.
Main Image: Thomas jensen in Unsplash